Whether you stick £2 on a weekend acca or blow your pay cheque in the bookies, you're part of the £7 billion gambling industry.

Even though players cannot bet on football, it hasn't stopped footballers gambling. It has even been suggested that bookmakers target them, knowing that they're paid incredibly well.

Whatever the reason, there are numerous stories of footballers with gambling problems. Newspapers are littered with stories of players begging bookies to close their accounts, or stars of the game blowing their multi-million pound fortunes in the casino.

Despite this, it seems that the Football Association are more concerned about match fixing. A ban was placed on all current players and coaches in 2014, which prohibited those involved in the top eight tiers of the game from betting on all football.

However, little has been done to help many who already find themselves addicted to betting and many footballers caught gambling have found themselves banned from the sport or on the receiving end of hefty fines.

These are just some of the most high profile betting cases to have hit the sport so far.
---
Martin Demichelis - Manchester City
Argentine defender Martin Demichelis racked up two Argentine Primera Division titles, four Bundesliga titles and a Premier League title throughout his career, as well as a charge for breaching the FA's betting rules.
Demichelis didn't have the best of times in England. He entered the Premier League with a long list of international caps and more than 200 appearances for the likes of River Plate, Bayern Munich and Malaga.
He initially managed to get the job done under Manuel Pellegrini and helped his new club to win the 2013/14 Premier League title. However, his declining ability was clear as day in his final season.
His poor showing against emerging talent Marcus Rashford in the Manchester Derby will surely go down in the history books.
That game was the start of what was to be a terrible few months for the Argentine. Two months later, it was announced that the FA would be investing alleged betting offences involving the player.
It was eventually found that he had placed a total of 29 bets on football matches earlier that year. However, as none of the matches were events which Demichelis had the capacity to influence, the former Manchester City man got off lightly.
All in all, Demichelis was handed a £22,058 fine and a talking too about his future conduct - nothing more than a slap on the wrist for a man that was pocketing £18,000 each week.
---
Cameron Jerome - Stoke City
While Cameron Jerome struggled to make it in the top flight, the English goalscorer has made a name for himself as a reliable attacking option in the Championship.
He has scored plenty of goals for Cardiff City, Birmingham City and Norwich City throughout his time in the second tier.
His time at Stoke was somewhat lacklustre. Despite a few long-range rocket goals, Jerome didn't make too many headlines at the Premier League club. That is, until he was charged with breaching the FA's betting rules.
The 26-year-old striker admitted that he had wagered on events in which his team was involved. However, he hadn't bet on his own team's matches or games in which he was able to influence the outcome.
As a result, he avoided a ban, but was handed a huge £50,000 fine and was 'severely warned' about his future conduct.
Your Complete Guide to Trading Football for a Living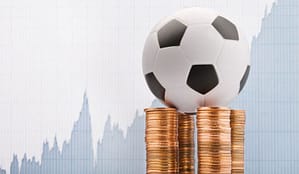 Betting Bank Management: How to Grow Your Money Safely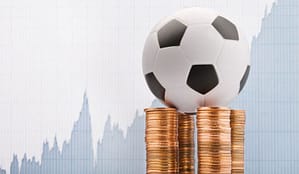 Betting Bank Management: How to Grow Your Money Safely
---
Andros Townsend - Tottenham Hotspur
Before the young Andros Townsend grabbed the spotlight with a phenomenal 25-yard goal on his first senior appearance for England, he had already made headlines as the first ever Premier League player to break the FA's new betting rules.
It must have seemed to the 21-year-old that he was destined to fail.
Despite making his debut for Tottenham in 2009, aged just 17, he soon found himself being shipped from club to club on loan deals. He made little progress between 2009 and 2013, as he joined up with nine different clubs across England's lower leagues, making just a handful of appearances for each.
He eventually arrived back at Tottenham in 2013, but what should have been a positive time was soon spoiled by the announcement that he was to be investigated by the FA for breaching betting regulations.
Following the announcement, Townsend was forced to withdraw from England's under-21s squad for the European Championship. He was made to attend a hearing and accepted the charges, which resulted in a fine of £18,000.
While he wasn't found guilty of betting on matches that he was involved in, Townsend was still handed a four month ban. Three of those months were suspended until 2016, effectively reducing his time out of the game to just a month.
---
Dan Gosling - Newcastle United
Dan Gosling is hardly known for making headlines. However, he did get his moment back in 2014, after he was found guilty of breaching betting rules.
Despite being tipped to reach the top of the game, earning caps for England's under-17s, u-18s, u-19 and u-21s squads, the box-to-box midfielder has had a fairly mediocre career so far.
He started his career at Plymouth Argyle, where he earned a move to Premier League side Everton, before joining Newcastle United. He eventually joined Bournemouth on a free transfer following the expiration of his contract in 2014.
Just months prior to that move, Gosling found himself in hot water with the FA. Injuries had plagued him during his time at Newcastle and the young professional had seemingly turned to gambling.
The FA's subsequent investigation found that Gosling had breached the rules multiple times and the player accepted the charges against him.
Luckily, Gosling was not found to have wagered on events in which he was directly able to influence the result and escaped without receiving a lengthy ban. However, he was forced to part ways with £30,000 for his misdemeanor.
---
Wayne Shaw - Sutton United
Sutton United's progression to the 2016/17 FA Cup quarter finals was an absolutely incredible achievement, given the club's position in the league pyramid. Yet, the momentous occasion was spoiled by the FA's decision to charge the club's reserve goalkeeper for breaching betting rules.
Wayne Shaw was the face of the media frenzy that Sutton's cup run had produced. The shot-stopper didn't feature in the clash against Premier League giants Arsenal, but he did grab the headlines with a stunt that would come to be known as 'Piegate'.
Prior to the match, Sun Bets had offered odds of 8-1 on the 23-stone goalkeeper tucking into a pie live on air. Unsurprisingly, Shaw delivered, as he was broadcast stuffing his face during the second half.
What seemed like a light-hearted bit of fun quickly became headline news, as the FA announced that Shaw may have breached betting rules by taking part in the stunt.
While Shaw hadn't wagered himself, he did admit that 'a few friends' might have taken a punt on the offer, which muddied the water somewhat. However, he insisted that the bet should have been voided anyway, given that it was a pasty, not a pie.
As a media storm erupted and fans called for the charges to be dropped, Shaw decided to hand in his resignation at Sutton. He has since been inundated with new job offers, including an 'official pie-taster' role at Morrisons.
---
Joey Barton - Burnley FC
The most high profile case to date, football 'bad boy' Joey Barton received a lengthy ban for failing to comply with the blanket ban on football betting.
The first case brought against Barton was by the Scottish Football Association, who charged the former Rangers midfielder with gambling on 44 matches in 2015 and 2016.
While his contract at the Ibrox Stadium had been cancelled, Barton was handed a one match ban which saw him miss his first game at new club Burnley. However, things were set to get a whole lot worse for the former Manchester City midfielder.
The Scottish FA charge was minor compared to the dossier that the English FA had put together.
All in all, Barton was found to have placed 1,260 over a decade long period. The worst part - 30 of those games were placed on the team that Barton was playing for at the time.
The Englishman insisted that those wagers had only been placed on games in which he was unable to play and was therefore unable to influence the result.
That was proved when he released his betting history, which showed that he had been wagering on his team to lose.
Despite his openness and honesty, Barton was handed a lengthy 18 month ban from all football activity. The FA insisted that it was the shortest possible punishment that they could hand Barton, given the extent of his rule breaking.
---
Matt Le Tissier - Southampton
Former Southampton midfielder Matt Le Tissier hung up his boots long before the FA's blanket ban came into place, but he makes the list for his part in an attempted betting scam in the 1990s.
The former England international admitted in his biography, released in 2009, that he had attempted to game the system by placing a spread bet on a game in which he was set to play in.
Le Tissier, who had hatched the plot with a friend and a teammate, wagered on the time of Southampton's first throw in a match against Wimbledon in 1995.
He planned to gain possession of the ball within the first minute and kick it out of play to score himself a hefty bonus on his weekly wages. The sum that he was set to win was said to be in the thousands. However, there was a major flaw in his plan.
Le Tissier was well known for his phenomenal vision and it seems that, even if he wanted to, he was unable to providing a wayward pass. Upon attempting to kick the ball out of play, possession was received by his unaware teammate, Neil Shipperley. Le Tissier spent the next 70 seconds frantically trying to regain possession of the ball.
While he didn't win the bet, the timing of the first throw-in meant that his wager was eventually refunded. The talented midfielder has admitted that he has steered clear of spread betting since.
---
Want to trade football profitably on Betfair?
Whether you're an experienced football trader or a complete beginner, we have the tools and community expertise you need to find success.
We're offering you a fantastic opportunity to finally achieve what you want from trading using our unique research tools, and with the help of the most successful football trading community around...
Try it for 14 days for £1!
If, after 14 days, you think it's not for you - cancel your subscription and we'll part ways with no further fees
Full membership costs as little as £1 per day - click here for all membership options