Football fans have witnessed some truly brilliant international sides in recent years. In the last 15 years we have had the pleasure of watching Germany's youngsters blossom from grassroots potentials into stars of the game, Brazil's skillful stars tear us apart at the 2002 World Cup and Vincente Del Bosque's Barcelona-inspired Spain side dominate international football between 2008 and 2014.
All brilliant in their own right, these sides all had, or have in Germany's case, a select few players who can turn a game upside down, create chances out of thin air and turn a poor display into a convincing victory. The likes of Brazil's Ronaldinho, Germany's Thomas Muller and Spain's Xavi.
While the pressure can often prove to be too much for some, the very best players usually thrive at international tournaments, taking their country that step further and ultimately proving to be the difference between victory and defeat.
Here are nine players who made all the difference for their side at a European Championship with their goal scoring feats:
5. David Villa – Spain, Euro 2008
Raúl had been Spain's man up front for close to a decade when David Villa emerged to snatch his place. A surprise inclusion at the 2006 World Cup, by 2008 Villa had cemented his place in Vincente Del del Bosque's European Championship side after netting six times throughout the qualifying campaign.
With Villa and an in-form Fernando Torres, then in his prime at Liverpool, forming a formidable partnership up front, it is unsurprising that Spain ran rampant in Austria and Switzerland.
Villa grabbed the bulk of his goals in Spain's opening match against Russia, in which they ran out eventual 4-1 victors, with his hat-trick proving vital in grabbing all three points. While none of the three goals will be remembered as the best of his career (two tap-ins and one drilled shot past a poor keeper), it did get Spain's tournament off to a flying start.
The former-Barcelona hitman's only other strike would come in their second game, a 2-1 victory over Sweden in which his goal once again made the difference. Villa would fail to find the net in Spain's next four matches, seeing his finish with four goals in six games – enough to earn him the tournament's Golden Boot.
=4. Dieter Muller – West Germany, 1976
The European Championship hasn't always been the grand spectacle that it is today. Back in the 1970s only four teams would make it through to the tournament finals. West Germany were lucky enough to qualify in 1976 after topping a group containing Greece, Bulgaria and Malta and producing a 3-1 victory over Spain in their play-off match.
Bayern Munich legend Gerd Muller had been West Germany's star striker for close to a decade, but his exit from the international scene left the space open for Dieter Muller to fill, having scored 34 goals in 34 games with FC Koln in the Bundesliga that season.
Muller would prove to be West Germany's knight in shining armour. With the side appearing to be down and out, trailing by two goals to one against host nation Yugoslavia, the star striker popped up in the 82nd minute to level the score and send the game to extra-time, before bagging a brace to make it a hat-trick and send his country through to the final against Czechoslovakia.
Muller did score again in the final to make it four goals in two matches, but Antonin Panenka's famous chipped penalty (a technique now known as the Panenka) would see the West German's miss out on the cup.
Despite becoming the only player in history to score six goals in one Bundesliga game the following season, Muller's international career would come to an end after just 12 appearances for West Germany.
=4. Gerd Muller – West Germany, Euro 1972
The most famous of the Mullers, Gerd Muller was renowned for his ability in front of goal and held the title of Germany's all-time top goalscorer until Miroslav Klose overtook him in 2014. He does still remain as Germany's most prolific scorer, having netted 68 goals in just 62 games for West Germany, four of which came at the 1972 European Championship.
Having already bagged six goals in six games throughout West Germany's qualifying campaign, including braces against Turkey and Poland, Muller would once again be the star man at the tournament finals, scoring four of the five goals that his country put away.
The first two would come against tournament hosts Belgium, who were unable to stop him from bagging a goal in each half to send Germany through to the final against a tricky Soviet Union side. Although, it appeared that nothing could stop Muller, who bagged another brace in a 3-0 demotion of the Communist state, taking his overall tally to 10 goals in eight matches.
The trophy win would prove to be Muller's last European Championship victory, as he called time on his international career following the 1974 World Cup, in which he scored the winning goal in a 2-1 victory over a Johan Cruyff led Netherlands side.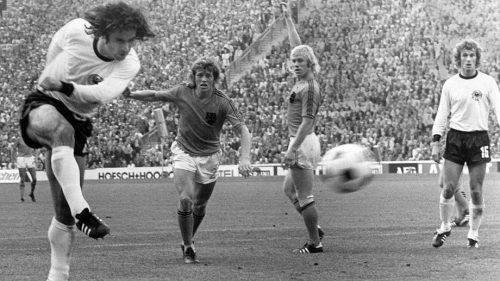 =3. Milan Baros – Czech Republic, Euro 2004
Starlet Milan Baros was part of that promising Czech Republic Under-21 side that reached the final of the 2002 U-21 World Cup and won the 2002 UEFA European U-21 Football Championship, earning himself a place in the senior side by the time Euro 2004 came around.
Having scored just two goals in eight qualifying matches, few predicted that Baros would take his game to the next level in Portugal that summer, but he would prove to be Czech Republic's saviour on multiple occasions.
His first goal came in the first group match. His side were trailing by one goal at half-time, but Baros struck in the 73rd minute, levelling the score and becoming Czech Republic's youngest ever European Championship goalscorer in the process.
With Czech Republic trailing 2-0, Baros would score again in their second game and provide an assist to inspire an unbelievable 3-2 comeback against the Netherlands, before scoring the winning goal once again in a 2-1 victory over Germany. The victory saw Czech Republic qualify for the knockout stages as the only team to win all three group games, and, considering their form, the Czech's had every right to be optimistic.
They kept up their impressive displays in a 3-0 victory over Denmark in the quarter-finals, in which Baros scored two goals in three minutes to  confirm the win, but he would fail to find the net in the next round, which ultimately proved costly as Czech Republic failed to overcome eventual winners Greece.
The defeat meant that Baros finished the tournament with five goals in six games, earning himself a place in the European Championship history  books.
=3. Alan Shearer – England, Euro 1996
After the disappointment of failing to qualify for the 1994 World Cup, football would 'come home again', as England played hosts of the 1996 European Championship. The occasion still stands as the last time that England progressed to the semi-final stage of an international tournament, largely aided by the goalscoring feats of Newcastle United icon Alan Shearer.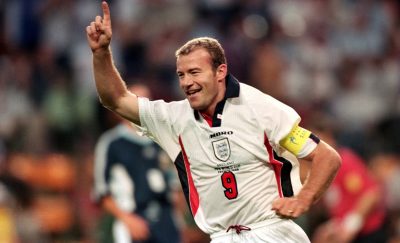 Having scored just five goals in his first 23 international appearances, Shearer's England record failed to match the impact that he had made during a four year spell at Blackburn Rovers, where he scored 112 goals in 138 matches. However, he would light up Euro 1996, beginning with goals in England's first two group matches against Switzerland and Scotland, before a brace in an inspiring 4-1 victory over The Netherlands, which saw England emerge from the group as victors.
A bore draw against Spain, in which Shearer scored in the penalty shoot-out to see The Three Lions through, pitted England against arch-rivals Germany in the semi-finals. Despite netting in the third minute, Shearer was unable to guide  England to anything but a dreaded penalty shoot-out, which unsurprisingly ended in defeat.
Despite the unfortunate ending, Shearer's five goals in six games stands as the best showing from an England player in front of goal at a European Championship to date.
=3. Patrick Kluivert – The Netherlands, Euro 2000
Best known for the years he spent with La Liga giants Barcelona, where he scored 90 goals in 182 appearances, Patrick Kluivert lit up the 2000 tournament after disappointingly missing the  majority of Euro 1996 with  a knee injury.
After progressing easily through a group containing eventual winners France, Czech Republic and 1992 victors Denmark, in which he scored twice, Kluivert's finest performance would come against Yugoslavia at the quarter-final stage. Two goals in the first-half put the Dutch side on course for victory, but few expected the absolute rout that would take place in  the second-half.
Kluivert was initially chalked up as having scored four times in the match, but after admitting that he failed to get a touch on the ball for the third, it was later marked down as a Dejan Govedarica own goal. Had he kept his mouth shut, Kluivert would have come in second on this list.
The Netherlands would crash out of  the competition at the semi-finals stage against Italy on penalties, after Frank de Boer, Jaap Stam and Paul Bosvelt all missed – Kluivert was the only Dutch player to hit the back of the net.
=3. Marco van Basten – The Netherlands, Euro 1988
Marco van Basten is a legend of the  game and it comes as no surprise that his name features on this list. Having amassed more than 300 career goals, 128 of which came in just 133 appearances for Ajax, Euro 1988 was Van Basten's finest display on the international stage.
While the Dutchman wasn't consistently brilliant, failing to score in their 1-0 defeat to the Soviet Union and 1-0 victory over Republic of Ireland, the moments where he did shine greatly overshadowed the moments when he didn't. His most notable game came against England, who would eventually crash out of Group 2 with a tally of zero points, when he bagged the bulk of his five goals, scoring a hat-trick against against Bobby Robson's side.
Van Basten's other two goals would prove to be vital to The Netherland's eventual trophy win. His goal won them their semi-final clash against West Germany and his spectacular volley in the final put the game out of the Soviet Union's reach.
2. Savo Milosevic – Yugoslavia, Euro 2000
While that crushing 6-1 quarter-final defeat to The Netherlands was probably quickly dispelled from Yugoslavia's memory, it was a tournament to be remembered for star striker Savo Milosevic.
Milosevic was in fact the tournament's Golden Boot winner. Despite finishing on an equal tally to Kluivert with five goals, Yugoslavia's heavy defeat actually clinched him the award, as it meant that he featured in less games than his Dutch counterpart.
Impressively, Milosevic scored in every game that he played in at the tournament, netting two against Slovenia in a 3-3 draw, the winning goal against Norway, one in a narrow 4-3 defeat to Spain and the consolation goal in the 6-1 thrashing against The Netherlands. Not so great for Yugoslavia, but Milosevic's five goals in four games tally stands as one of the best records in European Championship history.
1. Michel Platini  – France, Euro 1984
In five decades of European Championship competition, no player has ever come close to matching Michel Platini's remarkable goalscoring feat at Euro 1984. The French captain embarked on a remarkable run which saw him score an unbelievable nine goals in just five matches.
Platini displayed his best form in the group stage, where he single-handedly guided France through a group consisting of Yugoslavia, Belgium and Denmark. A winning goal in their opening match against Denmark was just the beginning. Platini would go on to bag hat-tricks in his next two appearances, including three winning goals against Yugoslavia, which meant that his tally in the group games alone (seven goals in three games) would be enough to see him  top this list by two clear goals.
Yet another winning goal in extra-time of their semi-final clash with Portugal and another in a 2-0 win  over Spain in the final took Platini's tally to nine in five, making him the most prolific Golden Boot victor in European Championship history.