Football has produced some legendary managers over the years, all of which have earned the title for their own reasons – Carlo Ancelotti, for example, who is one of just two coaches to have won the European Cup (now the Champions League) three times, or Jack Reynolds, a pioneer of the Total Football system, which still influences the game to this very day.
However, it is trophies that make the biggest impression in football. While Lionel Messi is undeniably one of the greatest players to ever grace the beautiful game, it is often stated that he is yet to achieve the 'best of all time' status as he has, so far, been unsuccessful in leading Argentina to victory in the World Cup.
The same rings true for managers. For over a decade Claudio Ranieri was known as the 'Tinkerman' who couldn't hack it in the Premier League after he failed to lead Chelsea to the title. Yet, after spectacularly guiding Leicester City to the 2015/16 Premier League trophy, Ranieri finally cemented his place in the history books. Goals change games, but trophies change careers.
For some, trophies are extremely hard to come by, but for others picking up silverware seems to be an easy task. For these 11 managers, victory seemed to come naturally, earning them a place in football's hall of fame.
=8. Walter Smith
Despite a mediocre playing career, Smith proved to be much better suited to the dugout, where he won an astonishing 21 trophies with Scottish heavyweights Rangers Football club.
Smith's entry into coaching was overseen by some of the game's biggest names. He began his managerial career as understudy to Manchester United legend Sir Alex Ferguson during his time with the Scottish national team, before taking up the assistant manager role at Rangers under Liverpool great Graeme Souness.
Despite being handed an interim role following Souness' departure, Smith soon made the position his own by clinching the Scottish Premier League title at the end of the 1990/91 season. Another six consecutive league titles would follow, as well as three Scottish Cup victories and three Scottish League Cup wins, taking Smith's trophy tally to 13 before he announced his retirement in 1998.
His retirement lasted just a month before he agreed to join Premier League side Everton. Following spells with Manchester United and the Scottish national team, Smith would eventually return to Rangers, adding another three Scottish Premier League titles, two Scottish Cups and three Scottish League Cups to his total before calling it quits.
=8. Pep Guardiola
Currently tied with Smith at 21 trophies, Pep Guardiola is likely to climb further and further up this list as his managerial days go on, given the frequency with which he has picked up silverware throughout the early stages of his career.
The bulk of those trophies came during his time at the Barcelona helm, where he led the club to three La Liga titles, two Copa del Rey victories, three Spanish SuperCups, two Champions League trophies, two UEFA Super Cups and two FIFA Club World Cups in just four seasons – six of which came during the 2009 calendar year.
=7. Giovanni Trapattoni
Italian boss Trapattoni is one of only four managers to have won league titles in four different countries, having clinched the Italian Serie A, Bundesliga, Austrian Bundesliga and Portuguese Primeira Liga titles throughout his journeyman career.
The bulk of his 22 trophies came at Juventus, who he joined after a number of seasons with AC Milan. After winning the league during his first season, he added another five to his collection over the next decade, as well as a European Cup and two UEFA Cup winners' medals.
After winning his seventh Serie A title with Inter Milan, he move to Bayern Munich, winning the Bundesliga once before returning to Italy. A second spell at Juventus was less impressive, and he would have to wait until 2005 to add to his tally, but he eventually did so by guiding Benfica to the Portuguese title. His final trophy would come two years later, as he oversaw Red Bull Salzburg's first league win in a decade to make it four.
=7. Jose Mourinho
Another one of the four managers to have won titles in four different countries, Mourinho rose to prominence when he led Porto to an unlikely Champions League victory back in 2004, which ultimately earned him a move to Roman Abramovich's bankrolled Chelsea side.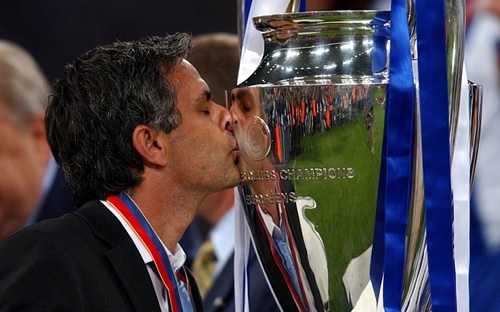 Mourinho was an immediate success in England, leading the club to two Premier League titles, two League Cups, one FA Cup and a Community Shield during his three seasons at the club. However, The self-declared 'Special One' has a knack for falling out with his superiors, which ultimately saw him depart for Italy. Record breaking spells at Inter Milan and Real Madrid would see bulk up his tally, before the Portuguese boss returned to Chelsea to lift another Premier League title in 2013.
Things once again soured, resulting in his dismissal midway through the 2015/16 season, but given his fantastic record, Mourinho will never be short of job offers. Plenty more trophies should await the Special One.
6. Ottmar Hitzfeld
Twice elected IFFHS World Coach of the Year, Hitzfeld is one of German football's most celebrated managers. Having broken records in the German second division during his playing days, Hitzfeld would reach even greater heights as a manager.
Beginning his managerial career in Switzerland, the German boss transformed Grasshopper Club Zurich into one of the Swiss Super League's best sides, leading the club to back-to-back titles in 1989/90 and 1990/91, despite a club drought of half a decade without a title win. His performances caught the attention of German giants Borussia Dortmund, who would embark on one of the brightest periods in their history under Hitzfeld, winning two Bundesliga titles, as well as the 1996/97 Champions League.
Unsurprisingly, Hitzfeld's success didn't go unnoticed, with Germany giants Bayern Munich soon coming after the successful manager. With Bayern, Hitzfeld would add another 14 trophies to his collection during two spells with the iconic club, including a second Champions League victory in 2000/01, taking his total up to 25 honours throughout his illustrious career.
5. Jock Stein
While not quite the best ever Scottish manager of all time, Stein is certainly in with a shout of taking the title of Scottish football's best manager of all time.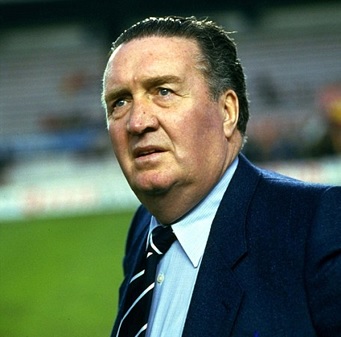 The Scots' managerial career would see him overcome the odds on many occasions, the first of which came during his time at Dunfermline. Upon taking the reigns, the club were in the midst of a relegation battle and had failed to record a win in four months. Stein quickly turned things around, eventually leading them to the Scottish Cup during his second season in charge.
After a spell at Hibernian, Stein would land his dream job at Celtic, becoming the first Protestant manager in the club's history to lead the club. The move certainly paid off, as he guided them to an astonishing 10 Scottish Football League titles, eight Scottish Cups and six Scottish League Cups. However, his biggest achievement came in the 1966/67 European Cup, as he became the first manager in history to guide a British side to victory in Europe's biggest competition.
Stein eventually called time on his career in 1985 following spells with Leeds United and Scotland, having amassed 26 trophies.
4. Valeriy Lobanovskyi
One of a handful of athletes and coaches to be handed the 'Master of Sports' title by the Soviet Union, Lobanovskyi became well known during his time at the Dynamoi Kyiv helm for his simplistic approach to the game, which focused on the way the team operated, rather than particular individuals.
The Ukrainian's system was an unsurprising success. Russian sides had been dominant in the Soviet competitions for some time, but Lobanovskyi was able to take Dynamo Kyiv to the top, winning the Soviet Top League in 1974, 1975, 1977, 1980, 1981, 1985 and 1985, before the USSR collapsed in 1992. Likewise, the club had also won six Soviet Cups and three USSR Super Cups, as well as two UEFA Cup Winners Cups and a UEFA Super Cup.
Despite departing the club in 1990 to have a shot at international football, Lobanovskyi would return seven years later to add more silverware to the club's trophy cabinet. Five consecutive league victories between 1997 and 2001 would take his tally to 12 titles, while Dynamo also picked up another three cup wins during his second spell, which saw the famed Ukrainian retire with a cool 29 trophies to his name.
=3. Bill Struth
With 30 managerial honours won throughout his 34 year spell with Rangers Football Club, it is no wonder that the main stand at the Ibrox Stadium was renamed the Bill Struth Main Stand back in 2005. In fact, if local and non-official tournaments (such as those that took place during the Second World War) are counted, Struth has won more trophies than any other manager in British football history.
After a number of years as the assistant manager, Struth, somewhat unfortunately, got his chance to take control of the side after club boss William Wilton was tragically killed in a boating accident. While the two sides continued to fight for the crown, Celtic had been largely in control of proceedings since the turn of the century. However, Struth's ascension to the Rangers hotseat eventually saw the club match their closest rivals. The 1920s was a particularly good decade for the club, as they clinched the title in eight out of the 10 seasons played.
By the time Struth called time on his managerial career in 1954, he has picked up an astonishing 18 league titles, ten Scottish Cups and two Scottish League Cups, making him the most successful manager in Rangers' history.
=3. Willie Maley
Another Scotsman to add to the list, William 'Willie' Maley is Celtic's answer to Bill Struth. Maley was the first ever coach to lead the club and helped to establish them as one of Scotland's biggest clubs during his 43 year tenure. While Celtic had relied largely on buying established players prior to Maley's arrival, his preferred strategy involved plucking youngsters out of the junior leagues and moulding them into stars.
His first season in charge ended with the 1897/98 Scottish Division One title – the first of 16 top flight title victories that Maley recorded as Celtic boss. Likewise, he also secured another 14 Scottish Cup trophies, bringing him level with Struth with 30 eventual career honours.
2. Mircea Lucescu
Currently managing Shakhtar Donetsk after a journeyman managerial career across Europe spanning 37 years, Romanian boss Lucescu is the second most successful manager in footballing history.
After a trophy-laden playing career, Lucescu kicked off his time in management by winning the Romanian Second Division with Corvinul Hunedoara. From there he took over the Romanian national team before switching to Romanian heavyweights Dinamo Bucuresti, where he won the top flight title a decade later.
After a spell in Italy and another back in Romania, Lucescu moved to Turkey to take over at Galatasaray, where he pulled off a shock UEFA Super Cup win against Real Madrid to clinch the trophy, before winning the league in 2001/02. After clinching another title, this time with Besiktas, the Romanian manager found his way to Shakhtar Donetsk.
Prior to his arrival, the Ukrainian Premier League had been largely dominated by Dynamo Kyiv, but Lucescu has since wrenched much of that control away from their opponents, winning eight league titles, five Ukrainian Cups and five Ukrainian Super Cups, as well as the Europa League in 2009, all since 2004, taking Lucescu's tally to 32 trophies.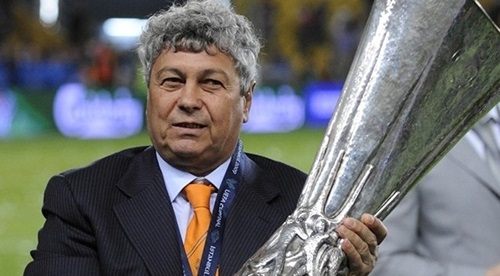 1. Sir Alex Ferguson
There have been plenty of successful managers over the years and even quite a few extraordinary ones, but Manchester United legend Sir Alex Ferguson is unrivalled when it comes to managerial achievement.
After working his way up the ladder in Scotland, Ferguson got his big break when Manchester United came calling in 1986. At the time, the club were struggling at the bottom of the table and many of the players had serious disciplinary issues. However, Ferguson soon turned things around, and by the time the inaugural Premier League campaign came around in 1993, Ferguson had developed a title winning team. Ferguson would win the Premier League another 12 times in just 20 attempts in the years that followed.
Aside from league titles, Ferguson also racked up five FA Cup, four League Cup, ten Community Shield and two Champions League trophies during his victory-laden spell at Old Trafford. Upon retiring, the Scottish icon had amassed an astonishing 49 trophies, putting his miles ahead of his opposition – given that the vast majority of his success came with a club on Manchester United's stature, Sir Alex Ferguson is undeniably the greatest manager of all time.