"If I can help Falcao reach his level again, I will do it," Jose Mourinho admitted as he confirmed that the Colombian striker would be joining Chelsea on loan. "It hurts me that people in England think that the real Falcao is the one we saw at Manchester United."
Falcao's 2014/15 season was undeniably bad, as he found the back of the net just four times in 26 Premier League matches. It came as no surprise that big clubs were still interested in the prospect of signing the usually prolific goalscorer for the 2015/16 campaign, given that he scored an unbelievable 93 times in just 119 games during his four seasons at Porto and Atletico Madrid, but it appears that Mourinho was wrong.
The Falcao we saw at Manchester United is now the real Falcao, as he has proven with what appears destined to be another deadpan season in England's top flight.
Chelsea are reportedly looking to do away with the disappointing Colombian and his £140,000-a-week wages this summer by taking the loss on their £4 million loan deal and sending him back to Monaco. Although, it appears that his parent club don't really want him, and there are very few suitors that would be willing to stump up his astronomical wages gives the way he has been playing.
Falcao has certainly fallen a long way since he left Atletico Madrid in 2013, but what has happened to change one of the world's most feared strikers into a mere shadow of his former self?
Early days
Falcao was born into a footballing family. His father, Radamel Garcia, was a professional defender who played across both Colombia and Venezuela. The youngster found life in Venezuela tough, as he was often picked on due to his lack of interest in baseball, a sport far more popular than football among Venezuelan children.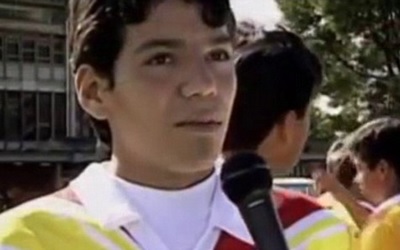 Although, despite the pressure from his peers, Falcao stuck to football and was rewarded with a place with Colombian minnows Lanceros Boyacá. It wasn't long before the youngster made his club debut in Categoria Primera B, Colombia's second division, aged just 13, making him the youngest ever professional debutant in Colombian football.
Falcao's appearances for Lanceros became more and more frequent as time went on, and by the time he had reached 15, Argentine giants River Plate were ready to make an offer for the youngster that his club would find difficult to refuse. Their $500,000 bid was accepted, and Falcao was on his way to Argentina.
The Colombian continued his development at the club, and soon earned the 'El Tigre' (The Tiger) nickname, which has stuck throughout his career, from his teammates in the club's youth system, due to his phenomenal goalscoring abilities.
"We had just beaten Huracan on one of River's side pitches and Falcao had scored two. At the time the television programme Futbol de Primera awarded the best player in games the Esso Tiger [named after a petrol company], so I joked with Falcao that he had been 'our tiger on the pitch' and from then on I started to call him El Tigre in training," River Plate graduate Gonzalo Luduena explains.
It didn't take long for Falcao to find his way into the first-team, as he became a regular in the 2005 Torneo Apertura side. Things went from strength to strength for the developing hitman, and by 2008 a number of European clubs were considering making a move. Aston Villa were one such club, while Inter Milan reportedly had a $15 million bid rejected, making the big fee that River Plate had paid just eight years earlier seem not quite so big any more.
River Plate held on to their man for another season, as now-Atletico Madrid manager Diego Simeone led the club to the 2008 Torneo Clausura title. Although, things started to go downhill for the club, and by the summer of 2009 they were ready to cash in on their star striker.
Porto
River Plate would end up losing Falcao for much less than the $15 million they were supposedly offered just 12 months earlier, as he agreed to join the Portuguese club Porto in a €3.9 million deal, rather than their league rivals Benfica.
His first season at Porto would prove to be better than anybody expected, given his lowly price-tag. After scoring in his first four consecutive Primeira Liga matches, Falcao went on to score another 21 times in 24 league games and finished the season with an impressive tally of 34 goals in 43 games in all competitions. Falcao's contribution helped the club clinch the 2009/10 Taca de Portugal cup, but the best was still yet to come.
Despite suffering a knee injury midway through the season that would reduce his game time, Falcao put on another unbelievable display throughout the 2010/11 campaign, as Porto raced to an unlikely treble. While Falcao continued to score goal after goal in the league, his best performances came in the Europa League. Seven goals in six games from the lethal goalscorer saw Porto's comfortable progression to the knock-out rounds, and Falcao's form continued in the quarter-finals.
Up against Spartak Moscow, Falcao would hit the back of the net four times in just three games, including a hat-trick in the home leg. Although, he managed to step it up in the semi-finals, as he put five past Villarreal, including four goals in a 5-1 home win. I'm sure by this point that you could guess who scored the winning goal in the final, to hand the club their first European trophy since Jose Mourinho's reign.
Atletico Madrid
Falcao looked set to stay on at Porto after putting pen to paper on a contract extension in July 2011 which saw his buy-out clause rise to €45 million. Although, as it turned out, the new contract was nothing more than a ploy to ensure that the club got a good deal for their star.
Just a month later and Falcao was on his way to Spain, having agreed to join Atletico Madrid in a €40 million transfer, which would eventually rise to a fee closer to €50 million due to a number of add-on clauses – a new club record for the La Liga side.
Despite the step up, Falcao's picked up where he had left off, as he bagged 36 goals in 52 games, including another 12 goals in a Europa League, taking his tally in Europe to 29 in just two seasons. Falcao was instrumental to the club's success, as they went on to claim the Europa League title, making him the first player in history to win the competition in back-to-back seasons with two different clubs.
By this point Falcao was beginning to make a name for himself as one of the best out-and-out strikers in world football, and his lethal goalscoring form continued the following season. Atletico Madrid met Chelsea in the UEFA Super Cup, which saw Falcao net a first-half hat-trick to down a Chelsea side led by none other than Fernando Torres, another Atletico Madrid prodigy who suffered a similar fate to the one Falcao is experiencing right now. The 4-1 victory saw the Colombian become the first ever player to score three goals in the Super Cup.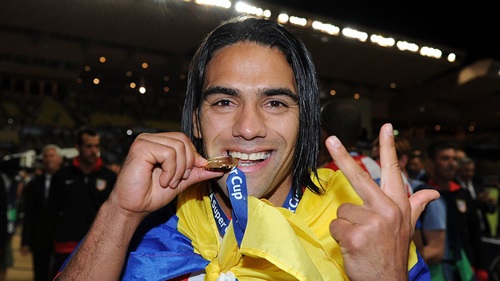 Unsurprisingly, Falcao emerged as a transfer target for the Blues in the final days of the transfer window. He decided to stay put and found the back of the net another 34 times in just 40 games throughout the season, taking his tally for Atletico to 108 goals in 134 games.
Monaco
As the 2012/13 campaign drew to an end, Atletico Madrid received an offer that they couldn't refuse from a Monaco side that had just returned to the top flight of French football thanks to the backing of Russian billionaire Dmitry Rybolovlev. With a wage of approximately €18 million a year on the table, it was an offer that Falcao seemingly couldn't refuse, either.
The club planned on building the team around their marquee signing, and he certainly proved to be a worthwhile addition during the first half of the season. After scoring in his first game for the club, a 2-0 victory over Bordeaux, Falcao went on to find the net another eight times in his next 12 matches, including one which secured a 1-1 draw away at Paris Saint-Germain, which showed that this new-look Monaco side could really give the French champions a run for their money.
However, a thigh injury at the end of November would serve as the starting point for Falcao's unravelling career. The Colombian returned from injury after just four matches, but failed to score in his next three. He found the net in his next game, a Coupe de France clash against Monts d'Or Azergues Foot, but limped off soon after half-time with an injury that would rule him out for the remainder of the season.
Manchester United
The anterior cruciate ligament injury served as the turning point in Falcao's career. He missed the 2014 World Cup, but was all set to return to action for the start of the 2014/15 campaign. Falcao scored twice in three games for Monaco as he settled in to playing regular football again, which was enough to convince newly appointed Manchester United boss Louis van Gaal that he was the star striker that the Red Devils needed to return them to the summit of the Premier League.
Falcao made the switch on the final day of the transfer window, agreeing to a £265,000-a-week deal, which also saw the club pay Monaco £6 million for the season long loan, while the club also had the option to pay an extra £43.5 to make the deal permanent.
The injury had seemingly hit Falcao harder than everybody expected, as he struggled to make the impact that Van Gaal had envisioned. After just one goal in his first five matches, the £265,000 man was dropped from the squad for the next four games.
Falcao's spell with the reserves wasn't indefinite, but his struggled only got worse after he returned. Three more goals in another 19 games, including a run of 12 games without finding the back of the net, marked the worst season of Falcao's career. As the season dragged on, it became increasingly clear that United wouldn't be splashing another £40 million to retain him beyond the end of the season.
Chelsea
After a woeful campaign, it was apparent that Monaco weren't interested in giving their former-star another shot leading the line, as Rybolovlev sharply brought an end to his initial spending spree. Largely thanks to his agent, Jorge Mendes, who also works for Chelsea boss Jose Mourinho, Falcao was finally able to join up with the Blues.
Mourinho dreamed of rekindling the brilliant strike partnership of Falcao and Diego Costa that had thrived at Atletico Madrid, and Falcao was desperate to prove to the world that he could cut it in the Premier League after his terrible spell at United.
11 games and just one goal later, and it seems that Falcao has now done enough to convince Mourinho that he was wrong, that he can't return the misfiring Colombian to the top of his game. He will be lucky if he isn't on the first plane out of London when the winter transfer window opens its shutters, but even if he survives the winter, he won't last beyond the summer.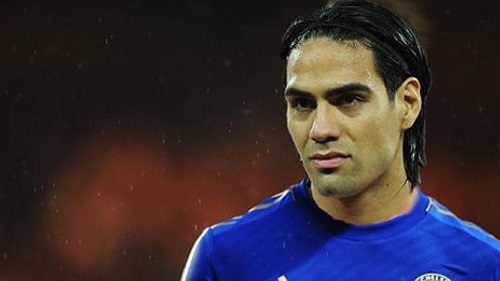 Who knows whether that anterior cruciate ligament injury has taken it out of him physically, or whether he is suffering from a serious lack of confidence as a result of it. Either way, Falcao will be lucky to find a top club willing to take him on for the 2016/17 season, especially if he still demands wages upwards of £100,000-a-week.
For now, it appears the once-uncontainable goalscorer will have to go back to basics, playing for one of Europe's lower-level sides for a small portion of the amount he is currently earning, or concede defeat and jump at a move to a Major League Soccer side willing to throw money at him solely because of his name.