Pep Guardiola has been hot property in the world of football since he guided Barcelona throughout one of the finest periods in their history between 2008 and 2012. That side have since gone down in history as one of the greatest attacking outfits, having lifted 14 trophies in a four year period.
Considered to be one of a select few truly 'world-class' managers, Guardiola has a number of suitors lining up for his signature whenever he becomes available. There are still a number of years ahead, but with a phenomenal haul of trophies already to his name, Guardiola will go down as one of football's true managerial greats.
Playing career
Like many Barcelona legends, Guardiola started his playing career at the famed La Masia academy, which has overseen the youth development of top players such as Lionel Messi, Carles Puyol, Xavi and Andres Iniesta. After joining at the age of 13, he was eventually given a chance to prove himself in the Barcelona first-team six years later under Dutch legend Johan Cruyff.
It was under Cruyff that Guardiola learnt the art of 'total football', which is seemingly the starting point for the 'tika-taka' style of play that Barcelona would eventually use under his management. The Spaniard fitted into the system perfectly, playing as a defensive midfielder and helping to move the ball from defence to attack with his fantastic vision and passing abilities. Less than a season after making his debut for the club he was giving a starting role in Cruyff's side.
His first full season saw Barcelona trump league rivals Real Madrid to the La Liga title by just one point, but it was their performance in the 1991/92 European Cup which really highlighted their brilliance.
It may seem surprising now, given their dominance over the last decade, but Barcelona had yet to win the prestigious European tournament, and no Spanish side had claimed victory since Real Madrid in 1965/66. Though, 1992 was to be their year, as they navigated easily through a group consisting of Sparta Prague, Benfica and Dynamo Kyiv to set up a final clash with Italian's Sampdoria, before a Ronald Koeman free-kick deep into extra-time handed Barcelona the trophy.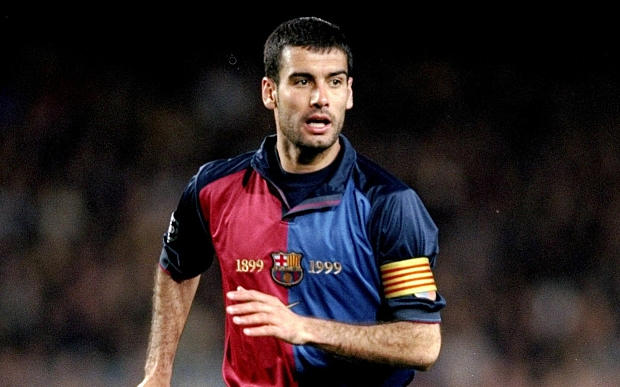 Under Cruyff, Barcelona continued to dominate Spanish football throughout the next few years. 1992/93 once again saw them top Real Madrid by a single point, and 1993/94 saw them retain the title for a fourth consecutive season thanks to a superior goal difference. Although, the next two years would end with disappointment, as the club failed to finish higher than third place, which subsequently saw Cruyff's reign come to an end.
Sir Bobby Robson was brought in as his replacement, and he immediately steered Barcelona back to the their winning ways. His first season saw the club land a treble, winning the Copa del Rey, Spanish Supercup and the European Cup Winners' Cup. Although, the end of the season saw Robson depart for Dutch heavyweights PSV Eindhoven, with Louis van Gaal taking the reigns at the Catalan club.
Guardiola was named as captain, only to be ruled out with injury for a large part of the season. Although, the 1998/99 campaign saw him lead the club back to the top of La Liga by a big gap of 11 points. However, that would prove to be the final trophy of his Barcelona career, as after another two seasons, largely hindered by injuries, Guardiola announced that he would be leaving at the end of the 2000/01 season.
The Spaniard was soon linking up with Brescia in Serie A, who had signed former-FIFA World Player of the Year Roberto Baggio just a season earlier. Although, a 13th place finish seemingly wasn't enough for the world-class midfielder, and after just one season he was on his way to Italian heavyweights Roma.
An eight placed finish in Roma was followed by another poor few months back at Brescia the following season, before Guardiola decided to call an end to what had been a lacklustre few seasons in Italy. Manchester United reportedly showed an interest in him, but he opted to join up with Qatarian side Al-Ahli, before finally finishing his career in the Mexican league with Dorados de Sinaloa in 2006 – Perhaps not the prettiest end to such an illustrious career, but the impact that Guardiola had made at Barcelona lived on.
Back to Barcelona
Just a year after hanging up his boots, Guardiola was on his way back to the club that had helped him to develop in to the top player that he became.
The former-academy youngster was handed the reigns of the club's B-team, who were plying their trade in the Tercera Division, the fourth tier of the Spanish league system. During his first season in charge, the club finished in first place, earning themselves a spot in the 2008/09 Segunda Division B.
Guardiola's managerial career took an unexpected turn that summer, as the club's president announced that he would be promoted to first-team manager, just two years after he had called an end to his playing career. Guardiola would be tasked with replacing the outgoing Frank Rijkaard, who had been relieved of his duties following a 4-1 defeat to Real Madrid, which meant that the club had won just two of their last eleven fixtures – a lot of pressure for somebody with very little experience.
The Spanish boss immediately set about putting his spin on what was already a phenomenal playing squad. Stars such as Ronaldinho and Deco were offloaded, to AC Milan and Chelsea respectively, while another key man, Samuel Eto'o, came very close to exit door. Eto'o had caused some problems during his time at the club, and as he would later prove with Zlatan Ibrahimovic, Guardiola wasn't a fan of troublemakers.
Eto'o ultimately forced Guardiola to change his mind and stayed on at the La Liga club. He was joined by the likes of Dani Alves and Gerard Pique, while Pedro and Sergio Busquets were also brought in from the youth academy. Together the team went on to reclaim the La Liga title and Copa del Rey double, in a season which included a 22 game unbeaten streak and a massive 6-2 drubbing of Real Madrid. Although, the biggest surprise was their victory in the Champions League – the first time a Spanish club had won a major treble in footballing history.
In his first ever season as a top-level manager, Guardiola had once again cemented his name in the Barcelona history books, and transformed himself from a former-star into one of the most desirable managers in world football.
Despite their fantastic performances throughout 2008/09, Guardiola continued the rebuilding job throughout the summer of 2009. The biggest piece of business saw Eto'o finally depart the club, making way for the big-money purchase of Ibrahimovic. The Swedish superstar's 21 goals helped the club to retain the La Liga crown, while Lionel Messi's 47 goals in all competitions saw him lift the first of his many Ballon d'Or trophies.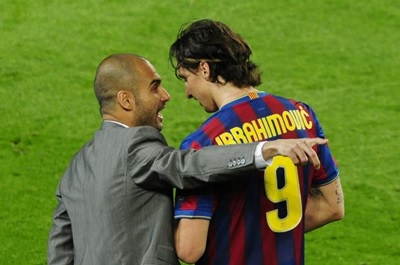 Although, the following summer was marred by controversy, as rumours began to circulate of a rift between Guardiola and Ibrahimovic. According to the player, Guardiola had taken a disliking to him based on things that he had read in the newspapers about the Swede's 'bad boy' attitude and was determined to freeze him out of the squad from the moment he had arrived. Guardiola always maintained the claim that it was Ibrahimovic's decision to leave, with the player eventually moving on loan to AC Milan.
Although, the genius boss ultimately proved that the club could cope without the star striker, with David Villa joining from Valencia to take his place, as they claimed a third consecutive La Liga title, as well as a second Champions League trophy in just three seasons. They came agonisingly close to clinching another treble, only for Cristiano Ronaldo to score late on in the Copa del Rey final, but the progress that the club had made under Guardiola's leadership was clear to see.
The 2011/12 season, what was to be Guardiola's final season in charge of the club, kicked off with a bang, as the Supercup El Clasico clash between Barcelona and Real Madrid descended into a full-blown brawl between the players, as well as the staff sat in the technical area, with Madrid boss Jose Mourinho sticking his finger in the eye of Barcelona's number two, Tito Vilanova.
Barcelona won the Supercup, but it was Real Madrid who won the season, eventually lifting the La Liga title. After four seasons at the Barcelona helm, and a fantastic haul of 14 trophies, Guardiola felt it was time to take a break from football, and announced that he would be stepping down from his position as manager at the end of the season.
Sabbatical, or not
Pep's planned break was to be a short one, as less than a year after departing Barcelona it was announced that he would be taking the reigns at Bayern Munich at the end of the 2012/13 season. It would once again be an extremely demanding job, after Jupp Heynckes led the German giants to a fantastic treble, winning the DFB-Pokal, Bundesliga and Champions League titles during his final season in charge.
Guardiola set about adding his own touches to the Bayern squad, getting rid of big names such as Mario Gomez and Luiz Gustavo and bringing in big money replacements such as Mario Gotze and Thiago Alcantara. A move was also made for Robert Lewandowski, but Dortmund refused to sell their star striker.
His Bayern career got off to a bad start, with the club falling to a humiliating 4-2 defeat to Borussia Dortmund in the German Supercup, just a few months after they had secured a 2-1 victory over their league rivals in the Champions League final, but he soon turned it around with a penalty shoot-out victory over his arch-rival Mourinho, who had recently returned to Chelsea, in the 2013 European Supercup.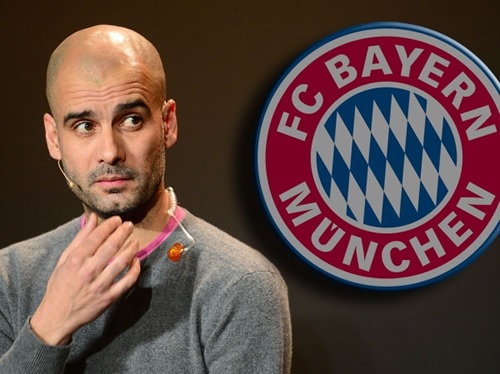 The season got better, with Bayern going unchallenged in the Bundesliga title race, in which they went 28 games undefeated prior to an eventual 1-0 loss to Augsburg at the back-end of the season. The fantastic run meant that Guardiola had made a better start to life at the Allianz than any other manager in the German club's history, and despite failing to progress beyond the Champions League semi-finals, his first season at the club was undeniably a big success.
Although, even at such an early stage, pressure was beginning to mount on the Spaniard. The club had expected Pep to take them to the next level – a similar period of dominance that he had brought about at Barcelona – but, as of yet, it hadn't come.
The summer of 2014 was much the same, with Mario Mandzukic departing for Atletico Madrid to make way for the inbound Robert Lewandowski. The club retained the 2014/15 Bundesliga title, but they fell short in the DFB-Pokal and Champions League, crashing out at the semi-final stage against a resurgent Barcelona side.
The season saw rumours begin to circulate about Guardiola's future at the club, after a falling out between the manager and his medical team saw long-serving club doctor, Hans-Wilhelm Muller-Wohlfahrt, depart after 38 years of service. The underfire boss receiving criticism from all angles, but he would remain at Bayern Munich for another season before leaving on seemingly good terms to join Premier League club Manchester City.
Pep's early days in management were phenomenal, considering how quickly he transitioned from player to manager. Even if he failed to lift another trophy in his career, his haul of 14 trophies in four years with his Tika-Taka Barcelona side will never be forgotten. Thankfully, his incredible talent for creating brilliant attacking squads is unlikely to dry up anytime soon, as it seems that, while he was exceptional with his feet, he has an instinctual talent for management that guarantees trophies and success wherever he ends up.