Goalkeeping is undeniably one of the hardest, most important positions on the field. However, it is also the most straightforward, too.
The keeper's fundamental task is a simple one – stop the ball from ending up in the net. Of course there are other tasks – distribution, commanding their defence – but the vast majority of goalkeepers are trained to operate in exactly the same way. No specified roles, techniques or moves, simply stopping their opposition from scoring.
However, every so often football provides us with a goalkeeper that is a different breed from the convention keeper – one that is still tasked with stopping shots, but that pushes the boundaries of what we have all come to expect of the goalkeeper.
Here are a few shot-stoppers that put their own spin on the position, whether through their behaviour, role or attire:
Rogério Ceni
There are a number of goalkeepers that have scored goals at some stage in their career. Paraguayan keeper José Luis Chilavert once scored a penalty-kick hat-trick for Argentine club Vélez Sarsfield, while Chelsea's Asmir Begovic holds the record for the fastest goal ever scored by a keeper. Former Tottenham and England man Paul Robinson even has two to his name. However, nobody comes close to matching the exceptional total tallied up by Brazilian keeper Rogério Ceni.
The goalkeeper started his career at lowly club Sinop FC, before he was eventually discovered by Brazilian heavyweights Sao Paulo. It was here where the goalscoring prodigy blossomed into a top goalkeeper, as well as a top goalscorer.
Since he was given an opportunity in the first-team back in 1997, Ceni has been banging in goals left, right and centre. Apart from a slight blip under then-manager Mario Sergio, who believed that he should have been concentrating on 'being a goalkeeper', the Brazilian has proved to be a valuable asset to the club season after season.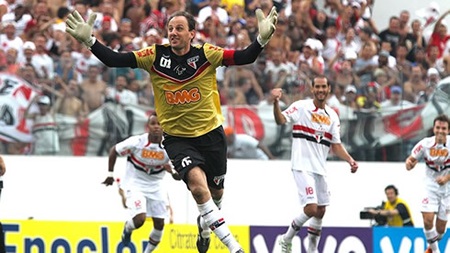 Although, his goalscoring feats aren't without risk, and finding himself so far up the pitch can prove challenging should his attempts go wrong. The Brazilian got caught out during a league game against rivals Fluminense, when he was too busy celebrating his goal to notice that his opponents had kicked off and shot from the centre circle while he was still making his way back to the goal.
The vast majority of his strikes come from the penalty spot, but he has also discovered a talent for putting the ball in the back of the net from free-kicks, too. I wouldn't blame you for thinking of a number in the region of 10, 20 or 30, but Ceni has actually scored a total of 131 times in just 574 appearances for his club, making him the first keeper to surpass the 100 goals mark.
The next best goalscoring keeper is the now retired Chilavert, who found the net 62 times. Despite now being 42 years old, Ceni is still the first choice keeper at Sao Paulo, and he is likely to add to his tally before he finally calls an end to his historic career. With nobody likely to catch up to his record any time soon, he can rest assured that his name will remain in the FIFA history books for years to come.
Rene Higuita
While, like Ceni, Colombian keeper Higuita also bagged himself a respectable number of goals throughout his career, he was better known for the risky, sweeper role that he often played. The goalkeeper would often venture outside of his penalty area to clear balls and get involved in play, which allowed his team-mates to push further up the field, but also goes against just about every aspect of the goalkeeping manual.
Due to his unconventional ways, Higuita was nicknamed El Loco, or 'The Madman' by local fans, and his risk-taking seemingly went beyond the boundaries of the football pitch, too. The footballer found himself in a prison cell for seven months back in 1993 when he got involved in a kidnapping plot with infamous drug baron Pablo Escobar. Higuita had acted as a middleman between Escobar and rival criminal Carlos Molina, whose daughter had been kidnapped, by delivering the ransom money for her release.
Another occasion saw El Loco test positive for cocaine back in 2002, in his very first match for Colombian side Pereira – an occurrence which repeated itself in 2004, while the shot-stopper was playing for Ecuador's Sociedad Deportiva Aucas, who, despite his pleas of innocence, opted to terminate his contract with immediate effect.
Despite his controversial private life, his personal errors cannot take away from the fact that he was a phenomenal keeper. There were plenty of brilliant moments throughout Higuita's career, but most will remember him for pulling off one of the most mind-boggling saves in football history during a friendly international against England back in 1995. As Jamie Redknapp's cross sailed towards the back of the net, Higuita flung his legs up above his head and cleared the ball in mid-air using the heels of his feet – a technique that would go on to be known as the 'Scorpion Kick'.
Although, this dangerous style of play didn't always pay off, and it even led to Colombia's exit from the 1990 World Cup during the Round of 16 stage. The match between Colombia and Cameroon had gone to extra time, and with the clock ticking down, Higuita had strayed out to near the half-way line. Opting to play a one-two with one of his defenders, a sloppy pass saw the keeper lose control of the ball, allowing Roger Miller to slot it into an empty net.
Jorge Campos
Mexican goalie Jorge Campos is another player famed for his eccentric style of play. When he wasn't straying dangerously outside of his penalty area to mop up balls, he was saving shots in the most acrobatic of ways. Campos was famed for his jumping abilities, flexibility and speed, which made him the idea sweeper keeper, despite standing at just 5ft 6in tall. However, the unconventional keeper also showed off his quirky character on the pitch in another way – through his flamboyant choice of clothing.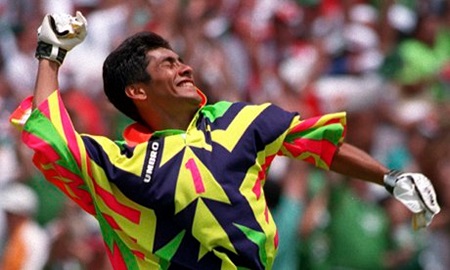 In fact, Campos used to design his own jerseys, and they were often a mismatch of colours, shapes and patterns, which would have been off-putting for even the very best strikers. Whether it was his unconventional play or his unconventional attire, the Mexican managed to catch the eye of sportswear giant Nike, who featured him alongside the likes of Ronaldo, Eric Cantona and Luis Figo in that unforgettable Rome Colosseum advert back in 1996.
Campos is also another name on the list of prolific goalkeepers, but mainly due to the fact that he played as a striker during his early days. The Mexican was second choice at his first club, Pumas, but desired to play regular football. Rather than moving elsewhere, Campos agreed to play at the opposite end of the pitch, scoring 14 games during his first season. He was made first choice keeper soon after, but since he had proved that he was fully capable of scoring a goal or two, he was often moved further up the pitch when his side were chasing a goal.
He may not have conformed to the goalkeeping 'norm', but that didn't stop Campos becoming one of the most popular goalkeepers in world history. His goalkeeping abilities were certainly entertaining, but he was no less, if not more, effective than the majority of shot-stoppers during his time. Campos' colourful personality (and kits) only helped to heighten the respect that football fans already had for him.
Fabien Barthez
Former Marseille, Monaco and Manchester United man Barthez was a French goalkeeper famed for his humorous personality and laid-back attitude to the game. Barthez was undeniably a fantastic goalkeeper, one of the best to ever grace the French national team, but, like most of the players on this list, he was also prone to taking unnecessary risks. He was famed for dribbling the ball dangerously close to defenders and performing step-overs around his opponents, but there were times when his show-boating didn't go quite to plan.
The French shot-stopper is probably best known for his four year spell at Manchester United – mainly for all the right reasons, but on the odd occasion for the wrong reasons, too. One particular stand-out moment came during the Red Devils' FA Cup Fourth Round clash against West Ham. A through ball from Frederic Kanoute found its way to Paulo di Canio, who raced towards Barthez's goal. The Frenchman, who believed that the Hammers' striker was offside, stood with his hand in the air waiting for the referee to blow the whistle, but the call never came. The goal, and Barthez's mistake, subsequently saw United suffer an early exit from the competition.
Some believed that the incident was simply an attempt to put Di Canio off of his game, which would have been in line with the behaviour he often displayed when tasked with saving penalties. One particularly memorable incident occurred during a game against Leicester City, when a Barthez foul awarded the opposition a penalty. Outraged, Barthez leaned against the goalpost with his hands behind his back, refusing to stand in the goal. The penalty taker, Muzzy Izzet, proceeded to place the ball into the bottom left corner, only for the referee to order a retake. Barthez, knowing which way he would go, stepped up and saved the shot.
Barthez's antics were undeniably infuriating for opposition players and fans alike, but to his own he was a hugely likeable figure, and even his biggest haters would have struggled not to crack a smile when teammate Laurent Blanc kissed his bald head at the start of every national team game.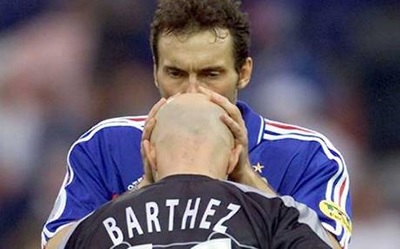 Lev Yashin
The vast majority of players considered to be 'stars' of the game plied their trade further up the field – Pele, Ronaldo, Diego Maradona, Cristiano Ronaldo and Lionel Messi to name a few. However, Yashin can certainly include his name on the list of true stars, and, surprisingly enough, he spent his career between the sticks.
Yashin wasn't unconventional in the same way as the other players on this list. Not because of his behaviour, fashion sense or style of play, but more 'unconventional' in the way that he made himself known as the star player for both club and country. Goalkeepers are rarely rewarded for their talents, but Yashin was one such player whose talents were so exceptional that he was awarded with the prestigious Ballon d'Or award back in 1963, and he remains, to this day, the only goalkeeper in history to be recognised as the best player in the world.
While Yashin's style of play wouldn't necessarily be considered too far from the norm nowadays, he was a pioneer of many goalkeeping roles and techniques that have become common practice in the modern day. For example, the Russian shot-stopper was the first to command his defence, and was often seen barking orders at those in front of him from between the sticks. Likewise, he was the first goalkeeper to rush out to stop oncoming attackers and also the first to move off of his line to catch or punch the ball from set-pieces. His style of play was unheard of in the world of football, and when he appeared in the first internationally televised World Cup back in 1958, it left a lasting impression on those watching.
Since his playing days came to an end, Yashin has been given awards of the very highest honour. He is one of a handful of players to receive the FIFA Order of Merit, while he was also elected into the World Team of the 20th Century and voted as FIFA's Goalkeeper of the Century. He didn't wear shockingly bright jerseys, perform Scorpion Kicks or infuriate his opposition, he simply reinvented the role of the goalkeeper, turning it in to what it is today.