The Chinese Super League was essentially unknown up until January, when some of the league's biggest clubs threw themselves into the spotlight by paying extortionate transfer fees for some of Europe's big name players.
Ukrainian club Shakhtar Donetsk did the best, receiving a staggering £37.5 million for attacking midfielder Alex Teixeira. The fact that the Brazilian was also being tailed by Premier League heavyweights Liverpool and Chelsea says a lot. Not so much about the quality and standing of the Chinese Super League, but more about the sheer amounts that China is willing to invest in order to take the country to the top of the footballing hierarchy.
Also on the move during the January transfer window was Jackson Martinez, previously of Atletico Madrid. The striker had failed to live up to expectations since joining the Spanish club back in July 2015, yet Atletico still made a cool £5 million profit after just six months.
Joining him were Chelsea's Ramires, who joined Ju Suning for £21 million, Roma's Gervinho (£13.5 million) and Inter Milan's Fredy Guarin (£9.75 million), while Paris Saint-Germain's Ezequiel Lavezzi has also joined Hebei China Fortune for an undisclosed fee, on what is reportedly a £11.75 million-a-year deal.
For a long time, Major League Soccer has been viewed as the league with the most potential to join the ranks of football's elite. However, MLS has always relied on ex-stars to boost entertainment and popularity levels. Chinese Super League, on the other hand, are willing to pay big in order to attract such players while they are still in their prime. And according to former-England manager Sven-Goran Eriksson, now managing Chinese side Shanghai SIPG, it won't be long before the likes of Wayne Rooney, Lionel Messi and Cristiano Ronaldo are itching for a move east.
While such claims may seem wildly ambitious, money talks in football, as has already been shown by the league's rapid rise in recent years. With the Chinese Super League heading for the top of league football, how has it come so far in such a short space of time?
Beginnings
China is actually home to the very first recognised form of football, a game known as Cuju or Tsu' Chu, which roughly translated to 'kick ball'. The sport, played during 2000 – 3000 BC, involved two teams of between 12 and 16 players working together to score points against their opposition, much like the sport we know today.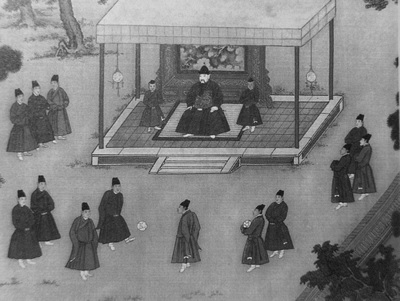 At one time, the sport had its own clubs and league, as well as professional players, and also became popular in Japan, Korea and Vietnam. However, Cuju, by then more than 2000 years old, declined and eventually disappeared sometime between the 14th and 17th century.
It would be more than 300 years before football was reintroduced to China, more than 100 years after the sport rose to prominence in Europe.
Arriving late, the Chinese Football Association (CFA) created the first semi-professional league in 1986, the National League division 1, and attendance figures gradually rose throughout the first season. The clubs involved were all owned and operated by their local governments, although businesses were encouraged to sponsor these teams by their growing fanbases.
With things going well, the CFA decided to split the league into a two tier system in time for the 1987 season. The National League division 1 was split into the Jia-A, which consisted of eight teams, some of which went on to become the clubs that are currently dominating the Chinese Super League today, as well as a second tier, Jia-B, which held another 12 teams.
It wasn't until the 1990s that Chinese football went professional, which coincided with the CFA's decision to allow private companies to purchase existing clubs or establish new ones. With companies willing to spend money to take clubs to the top, should it provide them with a solid marketing platform, a number of semi-professional clubs became professional over the next few years, with name changes frequently occurring to represent the company backing them. Take, for example, Shanghai Greenland Shenhua, who recently purchased Seattle Sounders striker Obafemi Martins and are reportedly lining up a £500,000-a-week deal for Wayne Rooney. Prior to 1993, the club was simply known as Shanghai, but following a takeover by local business Shenhua, the club has since been known as Shanghai Shenhua.
With the number of professional clubs growing, the CFA thought it was time to take China's football league system to the next level by rebranding Jia-A as a professional-only league. Top flight sides were ordered to turn professional in time for the 1994 season, or face expulsion from the league.
The rise of Jia-A
With more than enough teams to compete, 1994 saw the Jia-A League become the first ever professional football league in China, and Jia-B soon following suit just a year later. The 1994 season was sponsored by cigarette company Marlboro and the television broadcasting rights were sold to China Central Television, which allowed the CFA to award clubs big appearance fees, which subsequently provided them with the funds to pay their players higher wages and potentially convince foreign players to join up from abroad.
Guangdong Hongyuan FC, Beijing Guoan FC, Guangzhou Apollo FC, Sichuan Quanxing FC, Shandong Taishan FC, Dalian Wanda FC, Shanghai Shenhua FC, Liaoning Yuandong, Jiangsu Maint, Jilin Samsung FC and Shenyang Liuyao FC made up the 12-team league, and they all provided plenty of entertainment, scoring an average of 2.7 goals per game.
Although, it was Dalian Wanda FC who emerged victorious, losing just three of their 22 games throughout the season. The club had poached head coach Zhang Honggen, who had previously managed the China national team, and his experience proved vital in their title charge.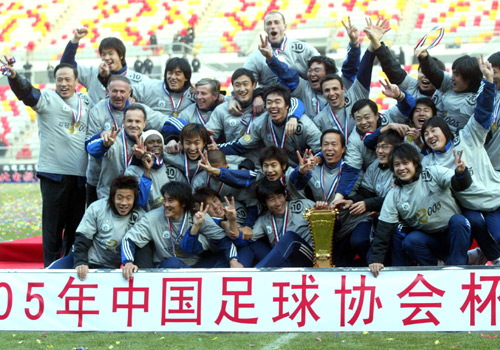 The first season attracted a modest average attendance of 16,326 spectators, but popularity jumped during the 1995 season, with each game attracting an average of 23,790 fans. The sport remained popular throughout the nineties, until it eventually dropped below the 20,000 mark in 1999, and continued to decline year on year.
The birth of the Chinese Super League
By 2002, A-Jia reached a new low, with each game attracting an average crowd of just 14,984 spectators, and it was decided that China's professional football system would be shaken up to secure the sport's future in the country. The idea had been floated by CFA vice-president Yan Shiduo as early as 2000, and by 2004 the Jia-A had been disbanded, with the Chinese Super League taking its place.
The shake-up was more than just a branding change. New rules were implemented to ensure that clubs were being run properly and finances were kept in check, while clubs were also forced to start their own youth development programs to train the next generation of players. To work alongside these new youth teams, leagues were also established to host Under 19, Under 17 and Under 15 squads. As well as boosting the quality in the league, the CFA saw this as a great way to develop top players for the national team and ultimately boost China's standing on the world stage.
However, the first CSL season was far from a success. Previous champions Shanghai Shenhua failed to impress, finishing just one point off of bottom place, while Shenzhen Jianlibao produced a shock by finishing up as champions, despite financial issues that saw the players go unpaid for a number of months.
Alongside the upsets, there were also a number of controversies. Players were found guilty of betting against their teams and throwing games to collect the profits, and referees were found guilty of awarding calls in a certain team's favour in exchange for payments. Had the CFA failed to take the situation as seriously as they did, docking points from a number of teams, the league's integrity may have been irreparably damaged before it had even really begun.
Over the next few years, the CSL's popularity remained largely the same, with each game drawing in an average of 10,000 spectators. Although, the sport proved to be more popular in certain areas, such as Shandong, where Shandong Luneng Taishan averaged at 26,000 fans, the maximum capacity of their stadium at the time, throughout the 2005 season.
Over the next decade, interest steadily rose throughout the country, with attendance figures having now crossed the 20,000 mark and the quality of play having significantly improved across the board. However, it soon emerged that the earlier corruption scandal was just the tip of the iceberg. It came to light that corruption was widespread throughout Chinese football, from the top of the CFA down to the players. High profile CFA figures, including vice presidents Xie Yalong, Nan Yong and Yang Yimin were arrested, and a number of people were found guilty of gambling, match fixing and corruption related offences.
The Chinese government eventually stepped in, forcing wholesale changes upon Chinese football, which worked wonders in convincing the fans that those in charge were both trustworthy and honest. Whether or not that is entirely true remains a mystery, but for China to truly become a footballing superpower, such occurrences will have to be eradicated quickly, as the CSL will soon be under the eye of the entire world.
Onwards and upwards
Over the last few years, a number of plans and initiatives have been put in place to help Chinese football to develop. President Xi Jinping, being a huge football fan, is pushing for China to become the best national side in the world and has also outlined plans to make the country the world's biggest sporting economy by 2025.
It isn't exactly clear how they aim to achieve such a goal, but it appears that CSL clubs are attempting to do so by investing large sums on top players. Any attempts to guess how the government has convinced the companies behind such clubs to part with their money are purely speculative, but it wouldn't be implausible to suggest that there are potentially political favours involved.
The initial plan had appeared to follow the guidelines of those aspirational leagues that had previously reared their heads – Qatar Stars League, Japanese J-League and Major League Soccer, where old, unwanted has-beens could go for one last payday before they hung up their boots. The league's first attempt, back in 2012,  seemingly fell flat on its face, as ageing stars such as Didier Drogba, Nicolas Anelka and Seydou Keita were offered bumper pay packets to join the league. However, in the case of the former two, a lack of professionalism soon saw them depart, with the club having failed to pay their wages on numerous occasions.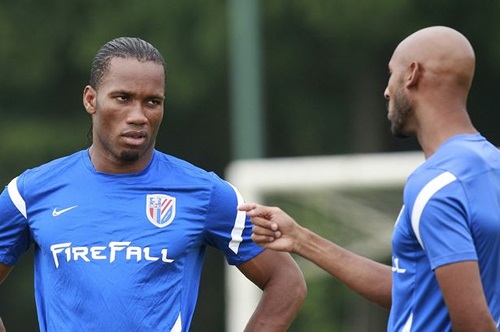 However, the CSL has reemerged with a new strategy in recent years. No longer are Chinese clubs targeting players with little left to give, but players who are still in their prime and can provide genuine entertainment and excitement on the pitch.
Likewise, President Xi Jinping has also outlined plans to build a huge number of football schools across the country, with a target of 20,000 within five years and 50,000 within a decade, which he hopes will uncover a number of talented youngsters to boost both the league and the national team. Given the sheer scale of China, it's hard to believe that there isn't a Lionel Messi lurking somewhere in its midst, and Jinping appears to think so, too.
While there is little chance of CSL football becoming a global hit any time soon, it must be remembered that China is home to almost 1.4 billion people, 19% of the world's population. That is a huge market for the CSL to tap into, and with table tennis and badminton ranked as the country's most popular sports, there is very little challenge from other sporting events.
It appears that China has finally got its plans for football domination under control, and if clubs can continue to bring in world-class talent, hold on those that they already have and nurture their homegrown talent successfully, China could one day actually be competing with Europe's elite.