Football can be an unpredictable sport at times. The 2015/16 Premier League season proved that – who would have predicted at the start of that season that within 12 months Leicester City would be champions, Chelsea boss Jose Mourinho would be leading Manchester United out, or that a host of star players would be plying their trade in the Chinese Super League?
Players can be just as unpredictable, too. Just look at Manchester United's £59.7 million signing of Angel Di Maria back in 2014. Tipped to be the star of the season, Di Maria's time in England was nothing short of a joke. Compare that to Chelsea's N'Golo Kante, who was transformed from a £5 million player into a £30 million player over the course of a year.
For this reason, allowing promising players to leave on free transfers, or selling them on the cheap, is often incredibly risky business for clubs, as you never know what kind of player they will develop into over the coming years.
As football fans, we all know that there are few things worse than seeing one of your club's former players thriving following their departure – whether you're a Manchester United fan watching Danny Drinkwater lift the Premier League trophy, or a Newcastle United fan reading about Hatem Ben Arfa's switch to Paris Saint-Germain.
However, there are worse outcomes. On rare occasions, the club expressing an interest in the player is the same one that they departed for free just a few years earlier. Before long, your club have confirmed the £45 million signing of their former player, as you mentally prepare yourself for the barrage of ridicule that you will undoubtedly receive at school or work the next day.
More often than not, player returns are a success, but it doesn't change the fact that they could have been a whole lot cheaper. Here are eight players that were deemed worthy of a big money return to their former clubs:
8. Graeme Le Saux to Chelsea – £5 million
Graeme Le Saux attracted the interest of Chelsea aged 19, after he was spotted by Blues manager John Hollins at a tournament in Jersey. Despite playing for the Channel Island's best club, St. Paul's FC, at the time, Le Saux packed up and headed to London.
Within three years the youngster had become a first-team regular, but his relationship with the club would soon sour. Unhappy with his playing time, Le Saux was captured on camera throwing his jersey to the ground after being substituted, which ultimately resulted in his sale to Blackburn Rovers in 1993, for a fee of £700,000.
Le Saux would become a vital component in a Blackburn team striving to cement their place among the Premier League's very best. With Liverpool legend Kenny Dalglish at the helm and Alan Shearer leading the line, the club achieved their goal the following year, breaking Manchester United's dominance and becoming just the second club in history to win the newly branded Premier League trophy.
Realising their mistake, Chelsea submitted a £5 million bid for their former player in 1997, four years after allowing him to leave. The costly mistake made Le Saux the most expensive defender in English football history at the time, and while injuries remained a problem, he did go on to win a League Cup, Cup Winners' Cup and FA Cup with the Blues.
7. Gerard Pique to Barcelona – £5 million
La Masia, Barcelona's famed youth academy, produces an abundance of talented youngsters each year, who are almost always guaranteed to mature into professionals of the highest quality. The very best make their way into Barcelona's first-team, but Pique would end up costing them £5 million in transfer fees before getting his chance.
Fed up of waiting for a break at Barcelona, Pique welcomed Manchester United's interest when they made their approach in 2004. Aged just 17, the Spaniard had yet to receive a professional contract with the La Liga side, which meant that Manchester United were not obligated to pay a fee to sign him.
It took just months for Pique to make his debut under managerial legend Sir Alex Ferguson, and within a year he had earned himself a new bumper deal at the club. After being shipped out on loan to Spanish side Real Zaragoza, Pique struggled to cement his place in the Manchester United first-team. However, he did enough to convince his former club that they had made a mistake in letting him leave.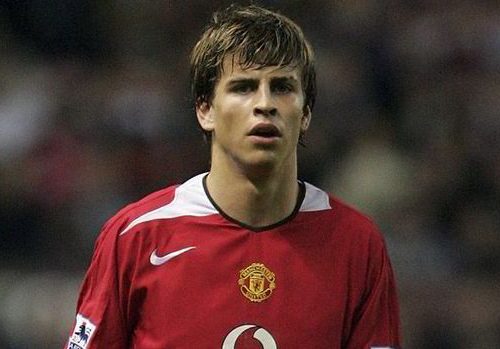 Following a £5 million return in 2008, Pique has since gone on to become one of the best centre-backs in the world, playing a vital role in Barcelona's glory filled decade and Spain's World Cup and European Championship dominance.
6. Peter Crouch to Tottenham Hotspur – £10 million

Peter Crouch has embarked on a journeyman career throughout his time in football, playing for no less than 12 clubs in just 18 years. However, Tottenham are one of just two clubs that he has had two spells with.
While he never made a senior appearance for the North London club the first time round, he was a part of their youth system for three years, before they handed him his first professional deal in 1998.
After failing to impress during a loan spell in Sweden, Spurs decided to cash in on the lanky striker, accepting a £60,000 offer from second tier side Queens Park Rangers. Crouch would go on to play for Portsmouth, Aston Villa, Norwich City, Southampton and Liverpool, before returning to Portsmouth in 2008.
During his time at Portsmouth, Crouch became a favourite of manager Harry Redknapp, who soon after took over at Tottenham. Not long after, Redknapp offered his former star the chance to join him at White Hart Lane, agreeing a £10 million deal with Portsmouth – a hefty fee, but Crouch's experience proved to be a bargain, and the money was recouped in full when he joined Stoke two years later.
5. Marco Reus to Borussia Dortmund – £14.5 million
Borussia Dortmund star Marco Reus spent the majority of his childhood at the club's youth academy, joining at the age of seven. However, after ten years at the club, Reus came to a crossroads in his career. An offer had come in from Rot Weiss Ahlen, a team in Germany's lower leagues, which would almost certainly offer him a way into a professional career.
With little opposition from Dortmund, Reus departed in 2006, after ten years with the Bundesliga giants, and within 12 months he had broken into the Rot Weiss first-team. A momentous goal from the promising winger  in the final game of the  2007/08 season earned the club promotion and seemingly attracted the interest of Bundesliga side Borussia Monchengladbach.
Despite playing on the wing, Reus would become a prolific goalscorer during this three year spell at Monchengladbach, scoring 41 times in 109 matches. Failing to predict his rise, the club had inserted an €18 million buy-out clause into his contract, and his childhood club were more than happy to meet it.
Reus has continued to progress at Dortmund, with talk of a big money move to one of Europe's elite arising whenever the transfer window is open. Whether or not Dortmund choose to sell, Reus has proved to be good business for the German giants, helping them to domestic titles and Champions League finals.
4. Nemanja Matic to Chelsea – £21 million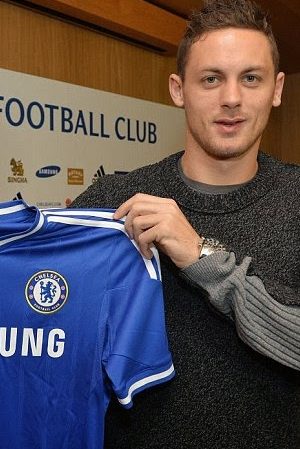 Chelsea thought that they were pulling off a real coup when they managed to snatch Brazilian international David Luiz away from Benfica for a mere £21.3 million back in 2011. Part of the reason for the moderate transfer fee was the inclusion of Nemanja Matic, a 23-year-old signing from Slovakian side Kosice who had failed to make the cut at Stamford Bridge.
Matic's was valued at around £3 million as part of the Luiz deal, but his stock would considerably rise over the next few years.
Upon Jose Mourinho's return to Chelsea in 2013, the defensive manager highlighted the need for a stocky defensive midfielder to protect the backline, selecting Matic as the perfect fit for the role.
By January 2014, The Blues had agreed an eye-watering £21 million deal for a player that they had allowed to leave just three years earlier. Thankfully, the £50 million sale of David Luiz to Paris Saint-Germain would eventually balance the books.
3. Nicolas Anelka to Paris Saint-Germain – £22 million
Nicolas Anelka managed to earn himself a place among football's 'bad boy' Hall of Fame during his younger years, falling out with fans, managers, club presidents and the media everywhere that he went. Yet, despite his poor attitude, an abundance of talent meant that there was always a big club willing to take him on, Paris Saint-Germain among them – twice.
To give the French club credit, they wouldn't have known what to expect from the volatile goalscorer the second time round – his first spell at the club lasted just ten appearances, after the Frenchman landed his first professional contract with the club, before accepting a £500,000 offer for the youngster from Premier League side Arsenal.
After earning himself the nickname 'Le Sulk' due to his disinterested appearance, Anelka was sold to Real Madrid for a £22.3 million fee. However, following a high profile falling out with club manager Vincente del Bosque and president Lorenzo Sanz, Anelka was back up for sale just 12 months later.
Despite his issues, PSG decided to splash the cash to land their former youth player, tabling a £22 million bid. While his on-pitch displays were good, unsurprisingly, the striker developed an issue with his manager Luis Fernandez within his first season. The next season saw him loaned to Liverpool, before Manchester City eventually took him off their hands after just two seasons for a mere £13 million.
2. Cesc Fabregas to Barcelona – £31 million
Similar to the situation involving Gerard Pique, midfield maestro Cesc Fabregas was snatched out of Barcelona's La Masia academy at an early age. However, his return would be much more costly for the La Liga club.
Fabregas was part of an exciting crop of youngsters, including Lionel Messi, famed for their goalscoring feats. Although, he would fail to make an appearance for the club's first team, before Arsenal moved in to snap up the 16-year-old in 2003.
Fabregas' talent quickly began to show itself, as he made a bee-line for a starting spot at his new club. Despite missing out on a winners' medal during The Gunners Invincibles season, Fabregas was a regular player throughout the following campaign.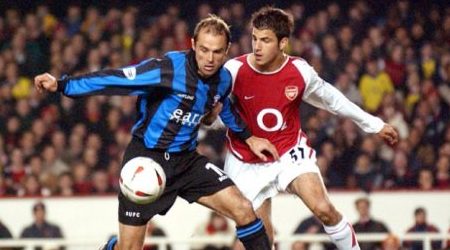 By 2011 Fabregas had emerged as Arsenal's star man, becoming the club's captain and dictating the club's passing play from the middle of the pitch, but he was eager for a return to his childhood club – so eager, in fact, that when Barcelona tabled a £31 million for him in 2011, the Spaniard agreed to pay his former club a portion of his wages for the length of his contract.
Despite the lofty transfer fee, Fabregas was unable to cement his place in a Barcelona midfield dominated by Andres Iniesta and Xavi, forcing him to leave once again in 2014. He came close to rejoining his former club for a second consecutive time, but eventually agreed to join Arsenal's Premier League rivals, Chelsea.
1. Paul Pogba to Manchester United – £89 million
£89 million is an outrageous amount of money to spend on one player, regardless of the history between the two parties, but the biggest talking point of Paul Pogba's record-breaking move to Manchester United was the fact that they were buying a player that they had allowed him to leave on a free transfer just four years earlier.
Despite recognising his huge potential, former boss Sir Alex Ferguson refused to agree to the player's astronomical wage demands back in 2012, allowing him to depart the club for new shores.
At the time the loss would have seemed minor to those in charge at Old Trafford, with the youngster having cost them small change when he signed from Le Havre in 2009. However, by 2014 Pogba had emerged as one of the most promising youngsters in the world.
His commerciality means that he will likely make United a fair portion of the transfer cost back in shirt sales and sponsorship deals, but the astronomical fee will be a heavy weight on the Frenchman's shoulders.