There were already a number of hugely popular football games on the market when EA Sports began toying with the idea of producing a video game based on the sport back in the early 1990s.
Titles such as Sensible Soccer, Super Soccer and Emlyn Hughes International Soccer had set the bar, but EA Sports' first title, FIFA International Soccer released on the SEGA MegaDrive in 1993, was praised upon release for its slick detail and high quality animation, earning its approval from the football community.
A year later EA Sports decided that it was time to release an upgraded version of their hit game, adding in club teams for the first time in FIFA 95. The demand was, once again, high, and it soon became clear that the FIFA franchise could make it as an annual release.
Year on year the FIFA series has continued to grow, becoming one of the best selling video game franchises in history, behind the likes of Super Mario, Pokémon and Grand Theft Auto, but ahead of hit titles such as Sonic the Hedgehog and The Legend of Zelda.
FIFA 17 offers yet more improvements, with an all-new story mode featuring Alex Hunter – EA Sports' answer to Marcus Rashford. To celebrate the success of the hit football simulation game, here are 17 of the highest rated FIFA players of all time:
Starting Eleven
Goalkeeper: Gianluigi Buffon (FIFA 2005)
FIFA 2005 saw Juventus and Italy legend Gianluigi Buffon become the highest rated goalkeeper in FIFA history, with an overall rating of 97 out of 100. Surprisingly, the 2003/04 season hadn't been one of Buffon's best, with his club's only victory coming in the Supercoppa Italiana.
Despite that, he still did enough to earn himself the IFFHS World's Best Goalkeeper award for the second year running, as well as the highest FIFA rating among a generation of shot-stoppers containing the likes of Iker Casillas, Oliver Kahn and Edwin Van der Sar.
Left-back: Roberto Carlos (FIFA 2002)
The greatest attacking left-back in the history of the sport, Brazilian icon Roberto Carlos was famed for his bursting runs down the flank and his bending free-kicks, which would often reach speeds of more than 100 miles per hour.
With two Campeonato Brasileiro Serie A, two La Liga, two Champions League and two Copa America titles already to his name, the Brazilian star earned an astonishing rating of 94 in FIFA 2002. Carlos proved his rating to be correct that year, finishing up second in the 2002 FIFA Ballon d'Or awards, while also adding another Champions League and a World Cup winners' medal to his collection.
Centre-back: Alessando Nesta (FIFA 2005)
FIFA 05 contained no less than nine centre-backs who warranted a rating of more than 90, but AC Milan legend Alessandro Nesta led the pack with a rating of 94. Unsurprisingly, the top rating came after a stint of three consecutive years in UEFA's Team of the Year.
Nesta earned a name for himself as one of the greatest defenders of all time throughout a 20-year career in Serie A with Lazio and Milan, winning no less than five league titles and two Champions League medals. Likewise, he also helped the Italian national team to win their first major title since 1982 at the 2006 World Cup.
Centre-back: Fernando Hierro (FIFA 2002)
Despite predominantly featuring as a centre-back, Fernando Hierro had the skills and ability to play further up the field in a midfield role. The Spanish defender particularly impressed with his surprisingly prolific goalscoring, notching up 102 for Real Madrid in 439 competitive matches.
Captain of a Real Madrid side containing an abundance of superstars in Iker Casillas, Zinedine Zidane, Raúl, Luis Figo and Ronaldo, Hierro held his own, earning himself a rating of 94 in FIFA 2002 despite his time at the highest level drawing to an end.
Just three years later, Hierro finished up his career with Bolton Wanderers, with three Champions League trophies and five La Liga titles to his name.
Right-back: Lilian Thuram (FIFA 2005)
While he doesn't quite match up to his team-mates, Thuram is the best ever right-back to feature in the FIFA franchise with a rating of 92, as well as one of the best ever right-backs to grace the beautiful game.
Thuram was part of the dominant French side that won the 1998 World Cup and the 2000 European Championship. In fact, with a back four containing Thuram, Marcel Desailly, Laurent Blanc and Bixente Lizarazu, France didn't lose a single game in 28 appearances between 1996 and 2000, recording 21 victories and 7 draws, conceding just 13 times in four years.
Central midfield: Ronaldinho (FIFA 2006)
A player that English football fans best remember for his emphatic display against the Three Lions at the 2002 World Cup. Ronaldinho almost singlehandedly took Sven-Goran Eriksson's side apart, setting up Rivaldo for the equaliser before netting a free-kick that left David Seaman stunned to secure a 2-1 win.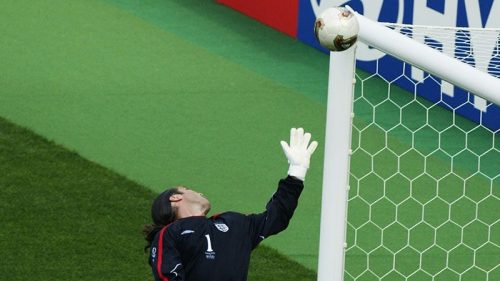 Ronaldinho soon after joined Barcelona and continued to grow as one of the best players on the planet. His dominant displays earned him an overall rating of 95 in FIFA 06, and a place in the franchise's hall of fame. Despite a number of impressive seasons in Europe, his peak came in 2006 when he claimed his second La Liga title and first Champions League with Barcelona, while also helping Brazil to finish runners-up at the 2006 World Cup.
Central midfield: Zinedine Zidane (FIFA 2005)
Before he began winning trophies as manager of Real Madrid, French icon Zinedine Zidane was one of the greatest players to ever grace a football pitch. His sublime ball control and astounding vision marked him out as one of the best midfielders of all time and ultimately convinced Real Madrid to pay out a world record transfer fee of £46.6 million for his services in 2001.
Zidane more than paid off his huge fee, becoming a vital part of Madrid's Galacticos side, and in 2005 his efforts were rewarded with an incredible FIFA rating of 96. That season would prove to be his last, ending his career with an infamous headbutt on Italy's Marco Materazzi in the 2006 World Cup final.
Left wing: Cristiano Ronaldo (FIFA 2016)
The only player in recent years to make it into the starting eleven, Cristiano Ronaldo sneaks into the team with a rating of 94 in the latest entry to the hit franchise, FIFA 17.
The last few years have seen Ronaldo given an overall rank of 92, just behind his biggest rival Lionel Messi. However, some brilliant performances for Real Madrid and Portugal, which landed him Champions League and European Championship winners' medals during the 2015/16 season, saw his standing increase.
Now entering the later stages of his career, it can only be so long before the incredible winger begins to decline, but he will always be remembered as one of the greatest footballers all of time.
Right wing; Luis Figo (FIFA 2002)
The third Real Madrid player from FIFA 2002 to feature in this team, Luis Figo was the best of the bunch, both in game and in reality, with an overall rating of 97.
An impressive five years at Barcelona prompted Real Madrid to break the world record transfer fee to snatch him away from their biggest rivals for £37 million, before he went on to lift the Ballon d'Or trophy later on that year. At Madrid, Figo took his La Liga title tally to four, while also claiming the 2002 Champions League trophy.
After five hugely successful years at Madrid, and having carved out his legacy as one of the greatest wingers of all time, Figo spent four more years at Inter Milan, winning four consecutive Serie A titles, before finally hanging up his boots with his trophy cabinet full.
Striker: Thierry Henry (FIFA 2005)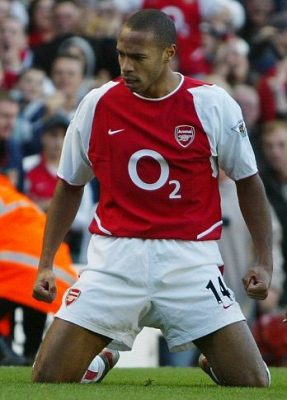 FIFA 2005 had an abundance of 90+ rated players, with a total of 60 stars making the cut, but a then 27-year-old Thierry Henry topped the list with a rating of 97. Better yet, Henry also had the potential of reaching a maximum rating of 99 in the game's popular career mode.
With 228 goals in 377 appearances for Arsenal, Henry certainly deserves his place among FIFA's elite, helping the two to two Premier League titles in three seasons between 2001 and 2004. However, his place as FIFA's best player would be short-lived, with his rating dropping to just 92 12 months later.
Striker: Ronaldo (FIFA 2004)
Ronaldo de Lima suffered a similar fate to Henry in FIFA 05, dropping to a rating of 92 after leading the pack in FIFA 04 with an incredible record high rating of 98. However, there was good reason for his decline – the Brazilian icon had been suffered with regular injuries which had seen him pack on the pounds and ultimately cost him his place at Real Madrid ahead of the 2007 campaign.
However, prior to his decline, Ronaldo had made a name for himself as one of the greatest football players of all time, scoring 280 goals 436 club appearances throughout his career, as well as another 64 in 98 appearances for the Brazilian national team.
Substitutes' Bench
Goalkeeper: Oliver Kahn (FIFA 2003)
Until Buffon came along and took the title in 2005, ferocious German shot-stopper Oliver Kahn was EA Sports' greatest goalkeeper of all time with a then record-breaking rating of 95 on FIFA 2003.
Like Buffon, Kahn did more than enough to earn his place among the goalkeeping elite through his career, spending a glorious 14-year stint between the sticks at Bayern Munich. While he isn't FIFA's best ever goalkeeper, he is probably content with 8 Bundesliga titles, three FFHS World's Best Goalkeeper award and a World Cup Golden Ball award still to his name.
Left-back: Paolo Maldini (FIFA 2005)
Choosing between Roberto Carlos and Paolo Maldini is a tough ask – Maldini was sublime for both club and country throughout a career which spanned almost a quarter of a century at the very highest level. However, a rating of 92 saw him fall just short of Roberto Carlos' in EA Sports' eyes.
With a record-breaking 647 Serie A caps, Maldini will still go down in history as one of the greatest defensive players to play the beautiful game.
Centre-back: Sol Campbell (FIFA 2005)
Picking a back-up centre-back was another tough position to fill. Nesta and Hierro were obvious choices, but with Jaap Stam, Sol Campbell and Lucio to choose from, each with ratings of 93 in FIFA 2005, Campbell narrowly takes the spot.
Aside from wanting to include an Englishman on the list (Wayne Rooney, John Terry and Rio Ferdinand all came close), Campbell's instrumental part in Arsenal's 'Invincibles' season of 2002/03 cannot be ignored.
Central midfield: Patrick Vieira (FIFA 2005)
Another major cog in Arsenal's Invincibles side, Patrick Vieira was another huge star in FIFA 05, ranked as the joint fifth best player in the world alongside the likes of Iker Casillas and Francesco Totti.
Likewise, Vieira was also a huge part of France's period of dominance between 1998 and 2000, during which they claimed both the World Cup and European Championship. Vieira eventually finished his career with Manchester City 11 years later, having won a total of six league titles in England and Italy.
Left wing: Ze Roberto (FIFA 2006)
Brazil has birthed many amazing players over the years and, despite missing out on a place in the 2002 World Cup winning squad, Ze Roberto is among them.
Despite embarking on a journeyman career back and forth between Europe and Brazil, Ze Roberto turned out for some of the biggest clubs in the world, including a brief spell at Real Madrid, as well as four trophy-laden years at Bayern Munich between 2002 and 2006. Following three consecutive Bundesliga titles and three consecutive DFB-Pokal Cups, Ze Roberto was given a rating of 92 on FIFA 2006, which made him the best left winger on the game at the time.
Striker: Lionel Messi (FIFA 2013)
Lionel Messi has never quite reached the highest numbers achieved by the likes of Ronaldo de Lima, Luis Figo and Thierry Henry, but it is plain to see that EA Sports have nerfed their ratings somewhat in recent years.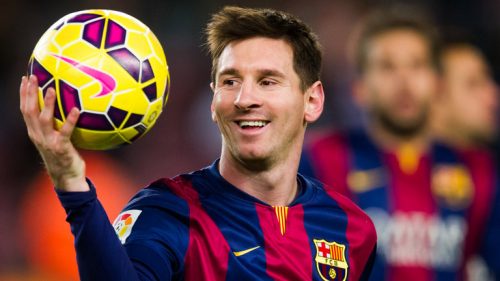 Had the Argentine ace been playing in his prime back in 2005, he would have earned nothing short of a 98+ rating. While his highest rating of 94 in FIFA 13 is equalled or trumped by the likes of Ruud van Nistelrooy (95), Roy Makaay (94) and Adriano (94), it would be unfair not to include a player who is arguably the greatest of all time in this list.