Sports Interactive's Football Manager, or Championship Manager, as it was known until 2003, has taken the sports gaming world by storm since the franchise's debut title back in 1992.
Throwing football fans into the shoes of a managerial great, you have to manage finances, deal with transfers and create tactics in order to take your team to the top. However, over the years Football Manager has developed into much, much more than a video game. The simulation game is famed for its incredibly precise database, which features data on more than 500,000 players, collected by approximately 1,300 scouts around the world year in, year out.
In fact, Sports Interactive's game has grown so big that it has gained the attention of some of the biggest companies involved in the sport. Sky Sports, for example, used stats from the game to compare players during the 2015/16 season, while former Tottenham Hotspur manager Andre Villas-Boas admitted to using Football Manager to pick out potential targets while working as a scout at Chelsea during Jose Mourinho's first reign.
It may sound ridiculous that such big figures in the sport are relying on a £30 video game to do a serious job, yet the database is now considered to be so precise among the football community that some top Premier League and European clubs actively use it so scout potential transfers and future opponents.
The game has certainly proved to be accurate in the past, predicting the rises of players such as Zlatan Ibrahimovic and Lionel Messi. However, sometimes those at Sports Interactive have made some seriously inaccurate predictions. Those who have played recent installments will be well aware of the potential of youngsters such as Gabriel Barbosa, Eder Alvarez Balanta and Jonathan Silva. However, their brilliance in the game is no guarantee that they will go on reach the top of the game, as proven by these 11 Football Manager wonderkids that ultimately flopped:
Goalkeeper: Guillermo Ochoa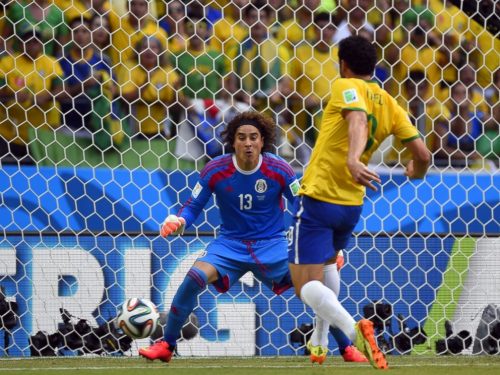 Best known for his brilliance between the sticks with Mexico at the 2014 World Cup, Ochoa has faded into obscurity over the last two seasons. Despite interest from Premier League heavyweights Liverpool and Arsenal, the shot-stopper found himself at Malaga, where he made just 11 appearances before being shipped out on loan to Granada ahead of the 2016/17 season.
This downwards trajectory is far from the brilliance that Football Manager predicted. The youngster was viewed as one of the very best goalkeepers in world football in Football Manager 2006 and 2007, in which he would quickly develop into £40 million goalkeeper with a good 15 seasons in the tank. Barring a miraculous recovery within the next few years, Brazil 2014 is likely to be the closest that Ochoa will get to being a top level goalkeeper.
Right back: Anthony Vanden Borre
Despite Football Manager deeming Vanden Borre to be the most promising prospect in Belgian side Anderlecht's youth ranks, which also contained a young Vincent Kompany at the time, the right back failed to deliver anything close to what was expected of him. Kompany is now captain of Manchester City and the Belgium national team, while Vanden Borre is trying his luck in France after failing to impress in Italy, England and back in Belgium.
His biggest moment undoubtedly came when he turned out for Portsmouth in the Premier League back in 2009/10, only to suffer relegation at the end of the campaign. His lowest? Probably when he was turned down by West Ham United for being 'too fat'.
A decade ago Vanden Borre was able to slot into any Football Manager first-team, no matter how big or small, and make the spot his own aged just 16. However, in reality, now aged 28, he has failed to make an impact at any of the six clubs that he has turned out for since leaving Anderlecht back in 2007.
Centre-back: Fredrik Risp
The 6-foot Swedish warrior who would keep your goal well protected and even stick a few in at the other end from set-pieces, Risp was the ideal man to build a dominant defence around during the days of Championship Manager 01/02.
In fact, Risp continued to be a mainstay in any diehard Championship Manager fan's team for years to come. However, in real life Risp was a relatively unknown defender at Swedish club IFK Goteborg with a long way to go before he was ready to join a top European side.
15 years on and any chance of him meeting his Football Manager expectations are gone, having embarked on a journeyman career across Europe's lesser leagues. Risp called time of his career in 2013, having made his way to Cypriot side Ethnikos Achna FC via Turkey and Bulgaria.
Centre-back: Michael Duff
You will have to go all the way back to Championship Manager 97/98 to experience the brilliance of Michael Duff, a player who could easily hold down a position in your defence for 10 to 15 seasons. The best part was that he could be snatched away from League Two side Cheltenham for as little as £20,000 and he always developed into a top level defender who would go on to star for the England. Better yet, his wage demands were low and would stay low no matter how long you held onto him.
Things weren't quite so grand for Duff outside of Championship Manager, though. It would be harsh to say that he had a bad career, but he certainly didn't reach the heights expected of him. Eight years at Cheltenham were followed by 10 years at Burnley, while 24 appearances for Northern Ireland capped his time on the international stage.
Left back: Dedé
Brazilian defender Dedé did spend the bulk of his career at a top club, completing a total of 13 seasons with Bundesliga heavyweights Borussia Dortmund. Despite winning two Bundesliga titles with the club, Dedé never quite reached the lofty heights that Championship Manager had predicted him to.
Dedé had held the title of world's best left back among the Championship Manager community during the early 2000s, soon after the 20-something had joined Borussia Dortmund.
Despite having the likes of Roberto Carlos to compete with, you didn't have to simulate too far into the future before Dedé had stolen his compatriot's place in the Brazil national team, and if you wasn't quick to snap him up, he would undoubtedly join your biggest rivals and provide them with a constant threat down the left flank. In reality, Dedé made just one international appearance throughout his career – a single cap in a friendly match against Hungary.
Central midfielder: Kerlon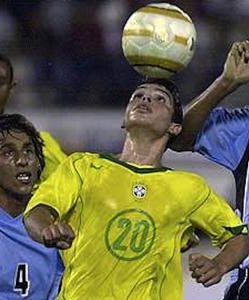 Like Dedé, Kerlon was a young Brazilian that was tipped to bring yet more glory to the Brazil national team, following on from the likes of Ronaldo, Ronaldinho and Roberto Carlos. Best played in an attacking midfielder role, Kerlon had those silky skills that are synonymous with the very best Brazilian footballers. Available for a relatively small fee from Cruzeiro, Kerlon was a staple in any top team and would rapidly develop into a player of similar quality to Lionel Messi, Cristiano Ronaldo and Neymar now.
It seemed that Kerlon would mimic his Football Manager feats in real life, after garnering plenty of media attention for his trademark move – the seal dribble – which saw him bounce the ball on his head repeatedly as he traveled down the field. It was an odd sight, but a brilliant maneuver, until his opponents began bundling into him to stop the attack.
A move to Inter Milan seemed like a step in the right direction, but Kerlon would fail to make an appearance for the club, with knee injuries continuously putting his career on halt. Loan moves around Europe were soon followed by stints in Japan, the United States and Malta. Kerlon should be in his prime right now, but his career appears to be all but over.
Central midfielder: Kennedy Bakircioglu
This Swedish midfield maestro was among the finest in Championship Manager 01/02. Anybody who played the franchise regularly around the turn of the millennium will know that a top team without Bakircioglu wasn't yet complete. Capable of playing all over the pitch (central midfield, right and left midfield, attacking mid or up front), Bakircioglu was Sweden's brightest talent in an age when the almighty Zlatan Ibrahimovic was also beginning to emerge.
The futures of the two Swedish talents couldn't be more different. While Ibrahimovic has gone on to win titles with Europe's biggest clubs, Bakircioglu has settled down to a career of mediocrity.
Prior to the 2001 Championship Manager title, Bakircioglu had already had a trial with Premier League giants Manchester United, but failed to impress the club enough to earn a contract. Aside from a brief spell at Ajax, that trial with the Red Devils was probably the pinnacle of his lacklustre career.
Central midfielder: Tonton Zola Moukoko
Moukoko is often included among the Football Manager franchise's legendary players. The youngster could be picked up for a minuscule fee from Derby County's reserve side and almost immediately developed into the very best midfielder to ever grace a football pitch.
Best known for his sky high potential in Championship Manager 01/02, Moukoko's future in the beautiful game appeared to be bright. He had already turned down offers from AC Milan and Juventus to join Derby and a host of top clubs were scouting the Congolese youngster. While up appeared to be the only way that he was heading, Moukoko's career headed in the opposite direction.
Departing Derby County in 2002, having failed to make a senior appearance for the club, the promising talent would embark on a journeyman career around Sweden and Finland, failing to land the big money to a top club that Football Manager had promised.
Attacking midfielder: Freddy Adu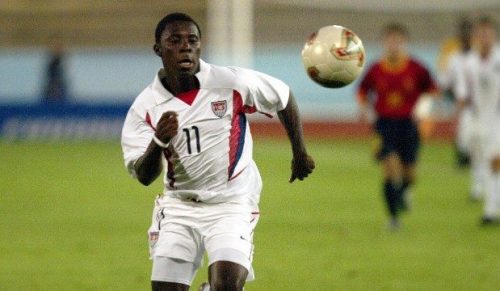 This list wouldn't be complete without the brilliance (or disappointment) or Freddy Adu – the youngest professional footballer to grace North American football, having signed his first professional contract aged just 14 back in 2004. He is also the youngest ever Major League Soccer player, having made his debut for D.C. United soon after signing for the club, as well as the youngest ever MLS goalscorer.
Adu achieved a lot during his younger years, and Sports Interactive believed that he would go on to achieve a lot more in the future. Nicknamed the 'New Pelé', Adu was given strength, dribbling and pace stats that made him a lethal striker for any club in the game, while his potential also meant that his other attributes were likely to greatly increase with time.
Yet, despite his potential, Adu would fail to reach the top, with his biggest move coming back in 2007 when he joined Portuguese giants Benfica. A decade later, Adu is back in the United States playing for second tier side Tampa Bay Rowdies.
Striker: Cherno Samba
At one time Cherno Samba was a big name in English football, having attracted the attention of a number of top clubs by scoring an astonishing 132 goals in 32 matches for his youth team. Desperate to cash in on both the media attention surround him and his unbelievable potential, a number of clubs made a move to sign the youngster, with Millwall eventually beat the likes of Manchester United and Liverpool to his signature.
Likewise, among the Football Manager community Samba was making a name for himself as a true legend – the kind of goalscorer that will craft a goal out of thin air and turned a defeat into a victory. However, broken promises by Millwall would see Samba's days as a wonderkid fade away as fast as his chances of joining a top club. Instead, he would move to Spain, Finland, Greece and Norway before hanging up his boots in 2015 aged just 29, having failed to find a club since departing Norwegian side FK Tonsberg in 2012.
Striker: Maxim Tsigalko
Another legendary bad call from Sports Interactive, goalscorer Maxim Tsigalko was an unstoppable force in Championship Manager 01/02. The youngster could be picked up from the reserve side of Belarusian club FC Dinamo Minsk for a minuscule fee and guaranteed an incredible goals to games ratio. In fact, his stats were so high that some players claimed that he had scored more than 100 goals for their team in a single season.
In reality, Tsigalko (or Tsyhalka, as it should actually be spelt) would never make it out of Europe's lesser leagues, playing in Belarus, Kazakhstan and Armenia throughout a career that saw him score a grand total of just 56 goals in nine years – far lower than the 900 or so that Football Manager would have predicted.