Award Winning Football Trading Community Is Now Open To New Members!
Money for nothing, betting for a living, working your own hours…
They're all pipe dreams, aren't they? Surely nobody actually does that?
Well, what if at least some of that could be a reality for you?
What if you could bet when it suited you and make a living from it?
Impossible? Fantasy? No, actually, it's not.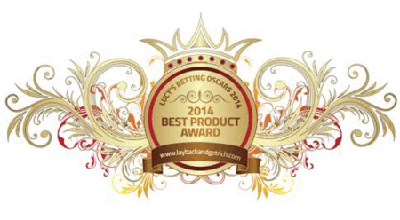 In the next few minutes, I'm going to tell you – and, more importantly, show you – why this is now more achievable than you ever thought possible.
My name is Steve Brown but you probably know me as the guy who has been revolutionising football trading.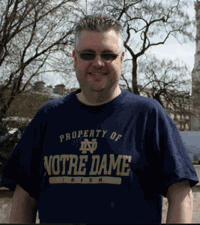 If you have not heard of my correct score trading strategies then I'm sure that you know of my exclusive "Team Statistics" software which has completely changed the way that football matches are researched and traded for profit.
Not so long ago I was "that guy who enjoys a bet" but I was able to transform myself into a "professional sports trader" once my profits started to deliver more money than my regular 9 to 5 used to.
It doesn't matter if you love it or hate it, you can make money from football.
And actually, winning is pretty simple, IF you have the right tools and the right strategies.
Most people don't have them, which is why most people don't win.
Once you have the best trading stats at your disposal for every important league fixture each day…
Plus dynamic strategies which use that information to exploit Betfair markets and secure profits…
As well as instant access to professional traders who want to help you as much as they can…
You'll be closer to your goal (pun intended!)
"If you always do what you've always done,
you'll always get what you've always got"
Think about that for a minute.
If you have been betting or trading for a period of time and not made the level of profit you expect, something needs to change or you will continue exactly as you are. Makes sense, doesn't it?
So why do so many people continue as they have been?
Why don't they do what is needed to become winners?
By now you're beginning to understand that profitable football trading is not simply a fantasy.
You're probably wondering…
What makes Goal Profits so successful?
Team Statistics
You are going to get access to this unique piece of software developed from scratch to my own specifications.
Forget the various stats websites which only show a handful of numbers. They are not good enough for serious, professional trading.
With Team Statistics you are going to have all the trading information at your fingertips for every important league fixture played, every single day.
More than 60 leagues worldwide are covered.
Every fixture has over 100 stats for each team and more are being added as the software is developed further.

Strategies
It's all very well having lots and lots of stats but, of course, you need to know what to do with them.
You are going to be shown how to turn these numbers into profits!
Today, I am going to give you immediate access to:
My own correct score trading strategy, fully explained in a comprehensive manual. You can also watch videos of my screen as I trade real matches. In addition, I will send you details of every match I plan to trade so that you can join the chat room and trade alongside me. You will be able to ask any questions as the matches progress so that you are not left to trade alone.
Five more correct score strategies designed by professional trader Kevin Laverick. Each strategy is explained in a manual which includes lots of screenshots showing real-life trades in action. You will also receive access to dedicated Team Statistics pages which analyse every upcoming fixture to show you which are the best for trading. Very quick and easy.
Additional trading strategies, such as my re-designed lay the draw system. Your precious time is much better trading so Team Statistics is going to do most of the research for you and provide a daily shortlist to pick trades from.
.
Support
All Goal Profits strategies have downloadable manuals which explain everything you need to know in full detail.
There are videos of my correct score trading strategy in the Members Area for you to watch whenever you wish.
If you get stuck, no problem. You will have all the support you need in the chat room, forum or by email.
The chat room is very busy while trades are in progress and even at other times you will find members trading matches.
Everyone is friendly and only too happy to assist you as and when you need some help.
.
The strength of our community is team work and
we can't wait to welcome you to trade with us!

Kevin Laverick's "New Trader Project"
As an experiment, Kevin started 2014 with £100 in a Betfair account.
The only tools he used for trading were Team Statistics and his experience.
By the middle of November 2014 that £100 trading bank stood at more than £30,000!
Kevin spends two sessions per week in the chat room, sharing his trades with members and especially those new to trading who need a helping hand.
He is a genius trader and we are extremely lucky to have him on our side.
Check out this profit he banked from a £100 stake. Even with a small £10 stake that would have been over £200 green!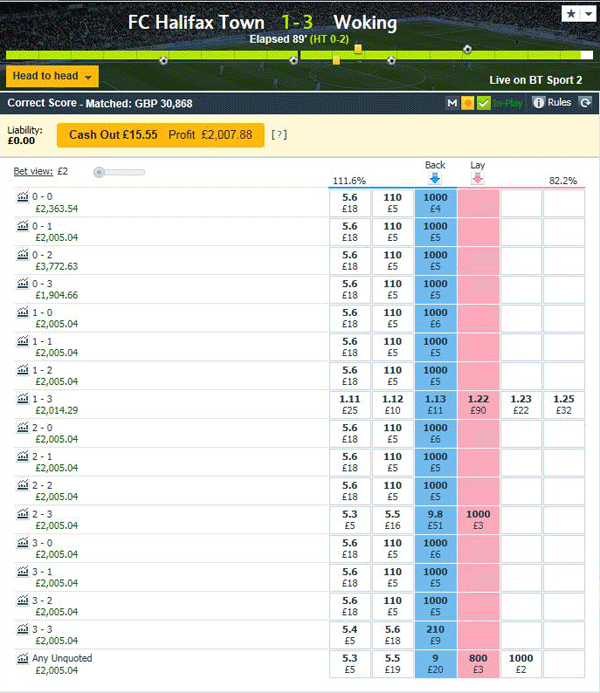 Kevin Laverick's Masterclass
This is a growing collection of strategies which have been designed by Kevin.
They are exclusively available for Goal Profits members to buy and add to their trading portfolio.
These profitable strategies are aimed at those who are confident with their trading and wish to progress further, perhaps even to full-time status.
Is that going to be you?
Kevin has helped a number of traders achieve their personal goals over the years, so there's no reason why not.
There are scalping techniques, "set and forget" bets as well as regular trading strategies fully explained.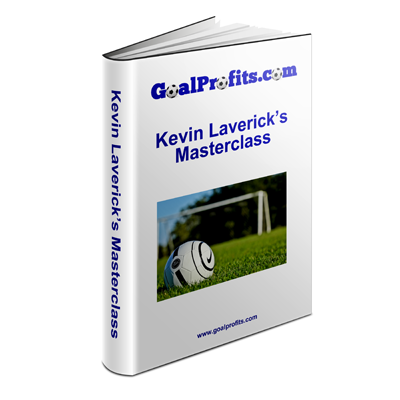 So to summarise, when you join Goal Profits today you will get immediate access to:
Powerful "Team Statistics" pages with detailed stats for over 60 leagues worldwide
Comprehensive "Correct Score Manual" so that you can quickly discover the profitable methods I use to trade in the correct score market
Tutorial videos where you learn the ins and outs of trading correct scores from real life trades
My own correct score selections emailed directly to you in advance so that you can copy what I do
An additional five correct score strategies with supporting Team Statistics pages
Yet more trading strategies with shortlists of upcoming fixtures which match favourable criteria for profitable trading
Bank Management Manual to assist you with managing your trading funds
24/7 access to the trading chat room where you can interact with professional traders and fellow Goal Profits members
Exclusive Goal Profits members-only forum to discuss all aspects of trading and pick up new ideas or skills
Direct email support from me whenever you get stuck
Kevin Laverick's "New Trader Project" twice per week
The opportunity to progress your trading further with Kevin Laverick's Masterclass

When you get instant access to the Goal Profits Members Area today you will discover strategies that are used by professional traders to make their living.
Even better, you will be able to trade with these full-time pros in the chat room, side by side.
I show people just like you exactly how to trade correct scores to maximise your returns. I coach. I advise.
Do you have the will to change for the better and finally trade in the same way as those who actually make a long-term profit?
There's absolutely nothing stopping you from doing just that.
All you have to do is trade the right matches, using the proven strategies you are going to get access to today.
Yes, everyone can afford to increase their betting bank substantially with regular profits.
Yes, you will become part of the Goal Profit success story when you lift the curtain and step inside.
Yes, it is more than affordable with an exceptional ROI and ridiculously low subscription which gives you access to exclusive members only benefits.
If you're like me you know a great investment when you see one.
But don't take my word for it, see what members have to say about their Goal Profits experience:
"Thanks once again Steve for everything that you and Kevin are doing behind the scenes to make Goal Profits what it is. Managed to return to profits again in October and had a great night last night on the WBA v Man Utd game where I combined GP Correct Scorelines with lays according to Kevin's Top Gun Strategy and added a lay of U3.5 goals too. The result returned a nice profit of 700%. October has been further proof that less is more with 46 points profit from just 23 trades. Very excited about the new chapters ahead…."
Tim R
"Hi Steve, Just thought you might like the hear the results of my first full month using Kevins masterclass and trading techniques. Living in Thailand I miss out on a few matches due to the later KO times but I managed to make a total of 66 trades in August including 25 correct score trades. I made an average of 3% of my starting bank per day, so have almost doubled my bank during August. It would be amazing if that trend continued! Thanks for all the hard work that yourself and Kevin put in."
Carl B
"Please find below 2 days trading using only yours and Kevin's systems. I cannot thank you enough for all the work you put in for your members. As you can see i have made nearly £340.00 and i am only risking £20.00 per trade. The correct score trades seem to be the best systems, in-fact there are a couple of my own match odds bets in there so if i had left them alone it would be more like profit of £400.00 for about 8 hours work. This month i am up over £2500.00 on correct scores alone. I would like to send a very big thank you to both you and Kevin, your websites have have sent my trading to a new level. You both spend so much time and effort on your members."
Wayne B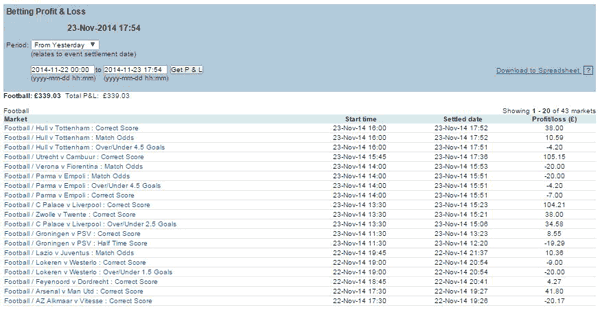 Steve, I'm gobsmacked at what you've created here. After my loss yesterday I created 13 points of profit today using only half-point stakes maximum. Once again I didn't trade any of your CS selections (imagine if I had, more fool me eh!) but 90% of what I made is down to Team Stats and strategies. I wanted to mention this because your service is so much more than just CS, even though CS is clearly tearing the roof off at the moment! As I said to Kevin in an email earlier today, the two of you have transformed my trading career.
Mark O
"Hi Steve, Firstly, thank you for the fantastic journey I'm takin part on. You and Kevin have opened my eyes wide open. Didn't expect to earn in my first year of trading, but you've made it achievable. Its been 16 months now and I learn every day. It was a bumpy ride at the beginning, seen people coming and going, people who thought it was easy. It's not easy, if that was a case everyone would be trading. I still make mistakes, but less and less. Hope this will continue. Special thanks to Kevin for his Making Decisions book and KLASS. That's breathtaking stuff and that's helped me immensely."
Lukasz M
"I have joined the Masterclass straight away I cant believe how much you have given us over the past 18 months. Goal Profits just gets better and better and must be the best football trading site in the World without a doubt. Many thanks for all your efforts and hard work it really is appreciated."
Clive L
"I just want to thank you for the work you have put in for Team Stats, these are more than worth the subs alone, and will give us a fantastic advantage. Team Stats will now allow me to highlight my own selections very easily and hopefully push my profit up higher. You should be very proud to be offering what is without doubt the best service available anywhere, and long may it continue. Thank you again."
Malcolm G
Isn't it your turn to finally discover how average Joes become pros and skyrocket your winnings?

Yes, My results are 100% verified.
Every one of my selections was exclusively sent to Goal Profits members before kick-off. Goal Profits is 100% transparent and lets members post their results so it is impossible to hide the truth. To be honest, most exclusive members are focusing on "correct score" trades right now because they enjoy seeing the massive profits roll in. In addition, members are able to make substantial returns from the unique Goal Profits Team Statistics software, finding value and in-play bets quickly and easily. This allows members to trade whenever they have spare time, so that everyone can make money.
And we do it all year round.
You've already seen how Goal Profits members rave about the returns they get, and how easy it is to use my powerful system, so you know that this is the best bargain you will see in a lifetime. When you sign up and become a Goal Profits exclusive member today you will get instant access to the Members Area, manuals, strategic chat room, Team Statistics pages and more so that you can quickly begin watching your trades rake in steady, substantial wins month after month.
Life's short. Isn't it time you started getting it right?
Here's to your wealth, success, and happiness!