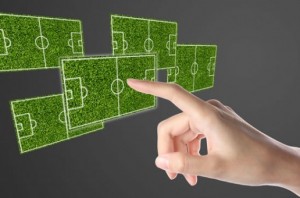 Most people will tell you that betting is solely down to chance. You might win big on one bet, but you will probably have to spend twice the amount waiting for that single result to come in, and even if you do win, you will only blow the return trying to win more. Sure, for most betters (or more appropriately named, gamblers) that is the case, but it doesn't have to be.
I would be lying if I told you that betting isn't a game of probability – there is always the chance that your wagers will be unsuccessful, but with enough thought you can play the markets in a way that will bring you far more successes than defeats. For example, while a gambler would happily pick Queens Park Rangers to beat Manchester City because of the special 15/1 odds that William Hill just offered before kick-off, we all know that 9 times out of 10, you are going to lose your stake. While it may be tempting, betting in such a way will not result in success. It is overcoming these temptations, and betting in an intelligent way that both makes sense and makes money which makes up a soccer betting system.
Betting systems are exactly as they are named.- they are a set of rules which work together to make up the way in which we place bets. This provides the better with a structured way of betting in order to focus their attention of particular events, markets and odds.
Adopting a system will help you to stick to what you know. While you may think that you have a solid grasp of the Championship, League One, La Liga, Serie A and MLS, your range of knowledge on all of these leagues probably isn't as substantial as it needs to be in order to start making a profit on all of them. Instead, you should look to specialise in one or two particular league and stick to learning every aspect of them in-and-out. The more time and attention you pay to this particular area, the more knowledge you will have to call upon, and the easier it will be to beat the bookies at their own game.
Before picking your area of expertise, you should spend some time researching the amount of information available for that particular market. Websites such as Goal Profits can have a huge impact on the success of those that are just starting out as football betters, and picking a league that has very little help and tips available for you to use may initially hinder your chances.
Your bankroll, and subsequently how you manage it, is also a vital aspect of a soccer betting system. While a gambler would willingly throw all of the money in their pocket at a single bet, you should look to set a reasonable amount of money that you are willing to lose and use that to wager with. You should only be betting small portions of your bankroll on each wager, in order to grow your funds gradually, as betting large amounts on a single wager only requires one shock outcome for you to be out of the game. Remember, betting is a long-term investment, and you should treat it as such.
Similarly, you should try to keep a record of all the bets that you make, and categorise them by each individual league and market, so that you are able to see which of your bets are bringing in long-term profits and adjust your system accordingly.
Soccer betting systems are made up of a number of different elements, and it is largely down to the individual to find out what works best for them. Although, if you want to jump straight in to a tried and tested betting system, you could always try out Value Football Betting, our sister site.