Luis Suarez is a name that generates vastly different opinions depending on who you ask and what club they support.
Liverpool fans will remember him for the 30 goals he scored throughout the 2012/13 season, in which he took the club agonisingly close to clinching the Premier League title. Although, Ghanaians will remember him better as the man who handled the ball on the goal-line to deny them a place in the 2010 FIFA World Cup semi-finals.
Diving, racism, violence – Suarez's footballing career has been littered with controversies that have largely overshadowed his brilliance with the ball. Some claim it is merely a 'South American' style of play (think Diego Maradona or Diego Costa), while others believe there is an underlying psychological disorder, present since he was a child, which causes him to act in such a fashion.
Whatever the cause, he is certainly both an unbelievable footballer and an unbelievable nuisance. Since his £75 million switch to Barcelona back in 2014, Suarez has managed to stay out of trouble, but how long will it be before he is on the back-pages for all the wrong reasons once again?
Uruguay
Like many other South American football stars, Suarez was born into a life of few luxuries in the small Uruguayan city of Salto, home to just over 100,000 inhabitants. Despite the small scale of the city, it provided not one, but two world-class footballers in recent years: both Suarez and Paris Saint-Germain's Edinson Cavani.
Suarez was born to Sandra and Rodolfo Suarez, struggling lower-class citizens, alongside six other siblings. Life was unsurprisingly difficult with so many mouths to feed and backs to clothe, and a young Suarez often had to settle for hand-me-downs from his older brothers. The dog-eat-dog nature of living a life of poverty is often cited as a reason for his 'no holds barred' attitude in later life. He learnt at a young age that if he wants something, he has to fight for it, and ultimately it still shows on the football pitch.
"We were from the lower-class. I never had the possibility to choose my own running shoes, for example, because of how big my family was," Suarez once admitted. "My parents did everything they could but they couldn't buy us the things that we wanted, only what they could provide."
At the age of seven, Suarez and his family relocated to Montevideo. His father had been working at a biscuit factory in the city already, travelling back and forth between the two, but when his mother managed to land a cleaning job nearby they decided it would be better to move away from Salto, despite the protests of their children.
Montevideo was a drastically different environment to the one that Suarez was used to. Noisy, grimy and a lot more urban, which he found difficult to cope with at first. Although, one thing the city was better for was its footballing prospects.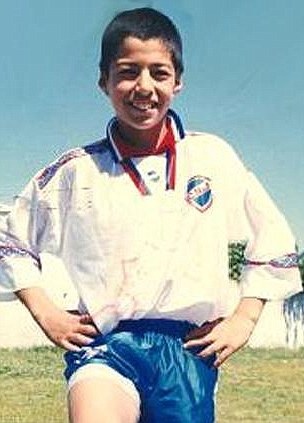 His mother searched for a local club that would take him on to distract him from his previous life in Salto, and he soon joined up with Urreta, a local kids club. A hat-trick in his first game put him in the spotlight, but his life hit another stumbling block when his father decided to leave his family behind when Suarez was just 12 years old. This put further strain on the family, who had to get by on the money his mother was earning. The split hit him hard, and he began to lose focus of his dream to play football professionally.
"Up to the age of 12 I knew that I wanted to play football, but afterwards, from 12 to 14, I went through a phase in which the football wasn't going well for me and I didn't want to study," Suarez admitted. "I didn't like to train. I only liked playing the games and that way it was going to be very difficult for me to achieve something. I got really angry. I was a rebel and that worked against me."
At the age of 14, Suarez found his way into the youth team of Primera Division side Club Nacional de Football. His ability was clear to see, but his commitment and attitude to the game was far from the level it needed to be at to play for one of Uruguay's biggest clubs. During his time in the youth squad, Suarez was involved in a number of incidents which almost saw him thrown out of the club. Aged 16, he was alleged to have assaulted a referee after a decision went against him, amongst countless other incidents.
Of course, according to Uruguayan sports newspaper editor Martinez Chenlo, "It was not a headbutt. He fell, accidentally, into the referee."
The Netherlands
Thanks to a girl, Sofia Balbi, who would go on to become his wife, and a new-found desire to give football another go, Suarez eventually found his way into professional football. After a season with the Nacional first-team, he was off to the Netherlands to play in the Eredivisie with FC Groningen, aged just 19. His disciplinary issues continued, as he picked up numerous cards throughout the season, but his goalscoring abilities did enough to attract the interest of Dutch heavyweights Ajax. The club saw an initial €3.5 million offer turned down, before deciding to pay out a whopping €7.5 million for the unproven 20-year-old.
It was clear that Suarez was blossoming into a top player throughout his time at Ajax, and he soon took over from lead striker Klaas-Jan Huntelaar. 22 goals in his first season, 28 in his second. However, it was his third season at the club which really put him in the spotlight. A remarkable 49 goals in 48 appearances saw him named the Eredivisie top scorer, Ajax Player of the Year and Dutch Footballer of the Year – a fantastic confident boost going into the 2010 World Cup.
The tournament would be the first of Suarez's international career, as he joined up with Diego Forlan and Edinson Cavani in a strong Uruguay attack. He certainly put in a good performance, scoring three goals in six appearances for his country. However, it ended on a sour note, as he was shown the red-card in a quarter-final clash against Ghana. As the game went into the final stages of extra-time, Ghana saw a Stephen Appiah shot come within inches of the back of the net, only for Suarez to stick out a hand and save it on the line. Asamoah Gyan failed to convert the penalty, and Uruguay eventually progressed.
This proved to be the start of the love-hate relationship between the striker and European football fans, with many labelling him a cheat. According to the man himself, it was merely an instinctual reaction to keep his country in the tournament.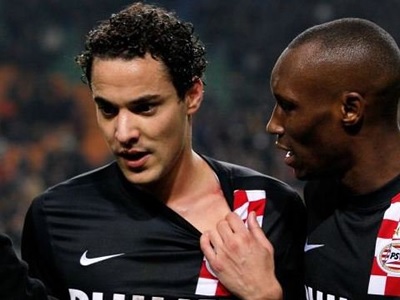 "Mine is the real 'Hand of God'. I made the save of the tournament," Suarez said. "There was no alternative but for me to do that and when they missed the penalty I thought 'it is a miracle and we are alive in the tournament'."
Suarez's final few months at Ajax would be marred with yet more controversy. Despite scoring seven goals and adding seven assists in just 13 Eredivisie games, the final one, a clash against title rivals PSV Eindhoven, would see him play his final game in the Netherlands. The first bite of his career, Suarez sunk his teeth into the neck of former-PSV midfielder Otman Bakkal, which subsequently saw him slapped with a seven game ban. Suarez uploaded a video to Facebook apologising for the incident, but it wouldn't be the last time.
England
Ajax had ultimately decided that it was time to part ways with their star man before he damaged his reputation further, and soon agreed a £22.8 million deal with Premier League heavyweights Liverpool.
Suarez was handed the number seven jersey, worn by a host of previous Liverpool greats, and he quickly went about proving that he was worthy of the shirt. He finished the 2010/11 season with four goals and five assists in 13 games, as he helped the club to a sixth place finish after a difficult start to the season.
Although, his first full season in England football was a disappointing one, as he found the back of the net just 11 times in 31 Premier League games. His past controversies were so often blurred by his goalscoring feats, but Suarez's 2011/12 season will certainly be remembered most for the allegations of racial abuse made against him by Manchester United's Patrice Evra.
A independent panel appointed by the FA found the Uruguayan guilty of racially abusing Evra during a 1-1 clash between the two sides, which saw him slapped with an eight match ban. Some claimed that the accusations were ludicrous, given that Suarez's grandmother was herself black, although the panel ruled that Suarez knew that his words would be found insulting. Despite the backlash, Liverpool stuck by their player and insisted that they believed his plea of innocence.
Suarez buckled down the following season, and went on to have a brilliant campaign under the newly appointed Brendan Rodgers. Suarez ended the season with 30 goals in 44 matches in all competitions. Although, Suarez tarnished his impressive season with yet another biting-related incident. During a clash against Chelsea in late April, with Liverpool trailing 2-1, Suarez was spotted holding onto the arm of Blues defender Branislav Ivanovic and sinking his teeth into his opponent's biceps. Despite the Uruguayan's protests, he was handed another 10 game ban.
The incident not only infuriated Chelsea and the FA, but it seemed to send shock-waves across the country, with Prime Minister David Cameron calling for a tough punishment. Likewise, those involved at Anfield were also beginning to grow tired of his antics.
"Embarrassing. He looked to take a chunk out of him. That's scary… It's what children do in a pram," claimed Liverpool legend Graeme Souness. "He is making it very difficult for himself to stay at Liverpool. This puts him in the last chance saloon."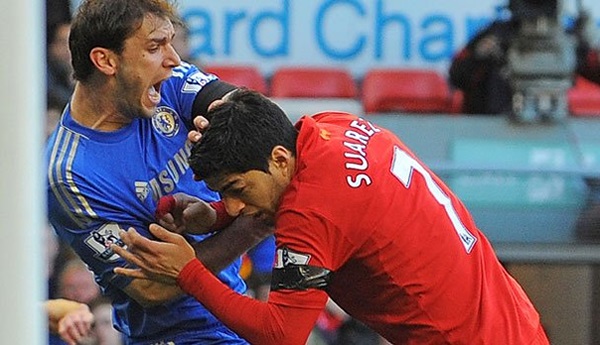 Suarez attempted to escape Liverpool that summer, claiming that the press were hassling him and his family, but the club refused to let him go. It proved a good decision, as the hitman went on to have his best ever season to date. He netted 31 times in just 33 games throughout the 2013/14 season, as he, alongside rampant duo Daniel Sturridge and Raheem Sterling, took Liverpool agonisingly close to their first Premier League title in more than two decades. The phenomenal campaign saw him become the first ever non-European to win the PFA Player of the Year award, and he also bagged the FAW Player of the Year, Premier League Golden Boot, European Golden Shoe and Premier League Player of the Season awards.
By this point it is probably unsurprising to hear that the lethal goalscorer found a way to ruin what had been a fantastic year. Suarez underwent last-minute knee surgery to join up with Uruguay at the 2014 Brazil World Cup, and after one defeat and one victory in their first two matches, Uruguay needed a victory in their final game against Italy in order to secure progression in the tournament. As the game entered its final stage, Suarez's frustration once again bubbled over, as he sank his teeth into the shoulder of Italian defender Giorgio Chiellini. Uruguay went on to score and secure a place in the knock-out stages, but the incident made the headlines across the globe, and Suarez was handed a nine game international ban, as well as a four month football ban, which ruled him out of club action too.
The world was divided over the punishment, with many agreeing that Suarez should be thrown out of football for good for his repeated violent offences, while others felt that he should have been offered some kind of psychological treatment for what was clearly an abnormal way to behave.
Liverpool unsurprisingly changed their earlier stance on Suarez's behaviour, and he was shipped off to Barcelona before the tournament had even ended in a massive £75 million deal. Since the ban came to an end, Suarez has become an integral part of the La Liga club's attacking line-up, alongside world-class duo Lionel Messi and Neymar.
2014/15 saw him fire 25 goals and 24 assists in all competitions, and as of yet there have been no incidents of poor conduct so far. Both the player and the club have since claimed that he is a changed man, but, given his past, it seems only a matter of time before Suarez is causing outrage among Spanish football fans, too.