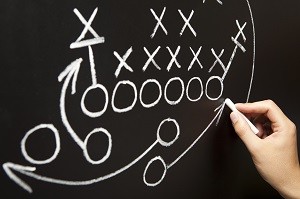 There are a few basic rules that all traders should follow in order to ensure that they are betting successfully in the long run. For example, everybody should set themselves a bankroll, which is a set amount of money that you can afford to spend over a certain period of time, and you should always research your bets well prior to placing the bet so that you know you are betting based on a logical assessment of the teams involved, rather than a gut feeling or emotional connection to the team. However, while it is vital to follow these basics, many traders prefer to adopt a more precise strategy when they bet.
Strategies usually outline two areas of betting that the better should consider: method and type.
The 'method' is largely down to the person placing the bet, as it focuses on how you are going to place it. This includes, for example, the bookmaker that you will be betting with and the percentage of your bankroll that you will place on each bet. While many traders often overlook this part, but it can be particularly useful in helping to keep track of your earnings and losses.
The 'type' refers to the kind of bet that you will be placing, such as fixed odds, which is wagering against odds offered by the bookmaker before the event takes place, or spread betting, where you are rewarded based on the accuracy of your prediction against the bookmaker's own prediction. Of course, these are just a few common bet types picked from an endless variety, but whatever type you choose, there is a betting strategy available to help you win.
Some people prefer to figure out a strategy that works for them over time. However, there are also a number of strategies available tailored for everybody, from beginners to experts, to pick up and follow at a moment's notice.
To get you started, here are a few simple betting strategies that you could try out in order to start making a profit on your bets:
Lay the Draw
This strategy takes advantage of the in-play function offered by most major bookmakers, so you must be willing to follow the game as it happens. Firstly, you should do your research on the games being played and pick one that seems likely to provide some goals. You should then lay, or bet against, the draw. You then wait for the favourite to go ahead, which will allow you to cash out for an immediate profit. The way in which people use this strategy often varies, some prefer to wait the full 90 minutes in order to go for the full amount, while others prefer to use the profits from cashing-out the lay bet to back the draw, as the profit from the initial bet will allow you to back the draw without any risk.
Goal Profits members have a number of LTD strategies at their disposal, with most of the research carried out by Team Stats automatically. A massive time saver and profitable too!
First Half Heaven
This strategy requires you to find matches which are likely to produce a goal by half-time, as you will be placing a straight bet on 'over 0.5 first half goals'. You do this by looking at previous performance for the two sides and the number of 0-0 results – if the statistics place the odds in your favour, place the bet and wait for the goal to go in. However, many experienced traders recommend doubling up First Half Heaven bets by placing all of your winnings from the first game on a second, which is just as likely to provide a result, and therefore doubling the initial stake.
First Half Heaven is an example of value football betting at its finest. It is an extremely simple way of making profit without too much risk, but only if you are willing to put the effort into doing the research. It is much easier with the statistics and software available to Goal Profits members.