Over at our Trade Your Bets site, Kevin Laverick set out to turn a £1,000 bank into £30,000 within three years by trading football. When you break it down, the maths are very simple; increase your bank by 10% on average per month and by the end of month 36 you'll have £30,913.
Trading stakes for the challenge started at £10 per point and are already up to £29. Of course, stake sizes cannot rise indefinitely, but for now it's no problem to get in and out of trades.
Saturday 31st December 2016 marked exactly a year since the £30k Challenge started and it was pretty much on track, just £218 short of the £3,138 12 month target. Month 13 should be up to £3,452 and it accelerates through 2017 to end at £9,850.
Here is an excerpt from an email sent out to Trade Your Bets members by Kevin:
My starting premise was to trade 100 selections per month, with an average liability of 1 point on each trade, and to maintain an edge of 10%. If I could do that I would be able to manage the feat.
So I was looking to trade 1200 games per year... in fact in this first year I have only traded 600 games. Just half of what my aim was. By only trading half the games that makes the task even more difficult than it was in the first place.
I intended my average liability to be 1 point per trade... in fact it was only 0.75 point per trade. Obviously this meant that my staking was slightly wrong, by around 25%. Again this would make the task harder too.
My aim was to maintain an edge of 10% through the year... in fact I did better than that. The actual ROI for the year as a whole was 22.5%, more than double the intended figure. If I could maintain that sort of edge it would of course make the task easier.
In total figures I started with a Bank of £1,000 and it now stands at £2,920, with an ROI of 22.5%.
If you look at the P/L worm you will see that there has been no discernible downturns at all during the year. There have been a couple of flat spots in April and September, but apart from those it has been a tale of an upward progression, and hopefully I can keep that going in 2017.
If I can treble the Bank each year then that would mean I would be within touching distance of the target after 3 years.
Year 1 £1k to £3k
Year 2 £3k to £9k
Year 3 £9k to £27k
So I am not a million miles away from my target at the end of the first year, even though I only played half the games I needed to and used far less stake than I needed to. In fact, had I played double the games and used larger stakes I would be standing with a Bank of £11.4k already, at the ROI of 22.5%. So things are pretty much on target.
In Year 2 what I will be striving to do is to increase the number of games I play and use bigger stakes. To this end I will be looking for around 100 trades each month and my maximum liability on any trade will be 2 points, but more generally it will be between 1 to 1.5 point.
During the year I will be introducing you to new markets that you may not have used before, and introducing you to new ways of trading that you may not have seen before. What I don't want to do though is to drop my ROI below 10%. In fact it would be a fantastic year if I could maintain it somewhere near the 20% I managed in 2016.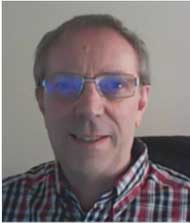 Kevin Laverick
Professional Trader
Kevin posts the trades he is looking at ahead of kick-off in the Trade Your Bets Members Area and sends out an email review of how he traded each one. From these reviews, members learn new trading techniques and apply them to future £30k Challenge selections or their own trades.
In order that results are fully verified, accurate and honest, Kevin posts his trading moves in-play in the Goal Profits chat room. This also allows those who are members of both Trade Your Bets and Goal Profits to follow along live.
Of course, if you join Trade Your Bets now and want to follow the £30k Challenge, you can do that. Start with a £1,000 bank - less if you want to - and follow the selections throughout the year.
Once Kevin hits his £30k target he may continue upward or start again. There's at least a couple of years to figure that out.
As the profit targets accelerate, it will become tougher to stay on track. Even if it takes an extra year or two to complete though, who would be unhappy with a £30,000 trading bank?